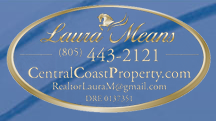 Whatever the season, you'll never run out of things to do in San Luis Obispo...
San Luis Obispo, CA (PRWEB) October 24, 2013
With the wide range of events happening at this time of the year, fall and winter are the best times to visit San Luis Obispo County, according to San Luis Obispo real estate expert Laura Means. "Autumn is harvest season," she says, "and this is when you can truly get a great taste of everything that our region has to offer."
A specialist in luxury properties throughout the county, from Paso Robles to Arroyo Grande real estate, Means is more than well acquainted with the events calendar here and is pleased to highlight signature events for the benefit of visitors or newcomers to the area. For the month of October, these include the Paso Robles Wine Country Harvest Wine Weekend, from the 18th to the 20th. Also on the same date is Pismo Beach's 67th Annual Clam Festival; and the community will hold the 37th Annual Jubilee by the Sea, a jazz fest, on the 24th to 27th.
"Take the time to explore the Pismo Beach real estate market as well," adds Means. "You can also still catch the last weekend of the Open Studios Art Tour, which is celebrating its 15th year, on October 19 and 20 as well as the Central Coast Oyster Festival. And do drop by Cambria, where the very original Scarecrow Festival is running until the end of the month."
November celebrations include the annual Rockin' Harvest Weekend, which will be from the 1st to the 3rd of the month; the Garagite Festival in Paso Roble on November 7-10 and the Holiday Lighting Ceremony in the downtown area on the 27th. As for December, Cambria has a full month of events planned with its annual Holidays in the Pines and there are a great many fairs, shows, and celebrations throughout the region.
"Whatever the season, you'll never run out of things to do in San Luis Obispo," says Means, "but you'll definitely want to be here at harvest."
Head to http://www.CentralCoastProperty.com or contact Laura Means directly for more information on the region, its various communities and attractions, and its extensive real estate options.