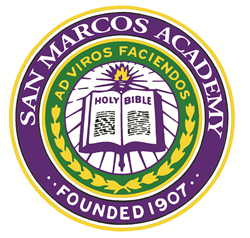 A Tradition of Excellence Since 1907
San Marcos, TX (PRWEB) March 30, 2015
San Marcos Academy, a Christian college preparatory school, has announced the addition of a five-day program for boarding students living within a 70-mile radius as well as a sixth grade for day students. The two new options will be available beginning in the fall of 2015 at the 108-year old boarding and day school, located just outside the city limits of San Marcos, Texas, about midway between Austin and San Antonio.
San Marcos Academy has always offered, and will continue to provide, the traditional, 7-day boarding program that draws students from around the world as well as from several other states and from cities throughout Texas. The new 5-day boarding program is designed for students who live within a 70-mile radius of the Academy, but whose parents travel often on business and may not be at home consistently during the week.
Students enrolled in this program would live in the Academy's residence halls during the week, getting the structure and supervision they need for academic success, while parents are free to manage their work and travel schedules. Families would reunite at their homes on the weekends and on holidays. Students would have the option to remain on campus for weekends whenever necessary, for an additional charge.
Tuition, room and board for the 5-day option is $23,900, which is no more than some private schools in Austin and San Antonio charge for their 7 day programs. The 7-day boarding tuition at SMA is $31,500. Also coming in the fall of 2015 is the expansion of the Academy's Middle School program to include a sixth grade class for day students. SMA will continue to enroll both boarding and day students in the seventh and eighth grades. Ten years ago, San Marcos Academy phased out its sixth grade, which at the time was considered an intermediate rather than a Middle School grade on local public school campuses. Most area schools now offer Middle School configurations that include sixth through eighth grades, so the Academy will be more in line with these schools.
Tuition and fees for the sixth grade school option will be the same as for the seventh and eighth grades and will include the services that all day students receive, including the opportunity to participate in athletics, fine arts, student activities and other enrichment programs.
More information on San Marcos Academy's new options, along with a comprehensive presentation about the school and a campus tour, will be available during an Open House at 2 p.m. April 12. Contact the SMA Admissions Office at 512-753-8000 or visit the Academy website at https://smabears.org for details about this event.