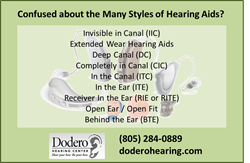 Santa Barbara, California (PRWEB) October 20, 2013
Researching hearing aids can be difficult for the first time shopper because there are numerous different types and numerous different acronyms used to refer to them. To help buyers make sense of the many types and the meanings of all the abbreviations, Dodero Hearing Center recently released a quick reference guide on their site at Hearing Aid Abbreviations, Types and Designs.
The guide contains basic information on the most widespread Santa Barbara hearing aid types including Behind the Ear (BTE), Completely in Canal (CIC), Half Shell (HS), In the Ear (ITE), In the Canal (ITC), Invisible in Canal (IIC), Open Ear/Open Fit, Receiver In the Ear (RITE) or (RIE) and Power.
A side-by-side listing of all the primary hearing aid styles quickly reveals why buyers often have trouble making sense of the similar names and abbreviations. Despite the similar names, these hearing aid styles differ in crucial ways. It's the goal of the quick reference guide written by Dodero Hearing Center to point out these essential differences. Having said that, the Audiologists at Dodero Hearing Center encourage any individual considering a hearing aid purchase not to rely on independent research alone, but rather to make an appointment with an expert. A hearing care specialist can deliver advice about which hearing aid styles are best suited for an individual after discovering more about each person's activities and lifestyle and where the hearing aid will be worn most often.
About Dr. David Dodero
Dr. David Dodero has been providing quality hearing health care services to the Santa Barbara community since 1977. He received his BA degree in Speech & Hearing at UC Santa Barbara in 1975, his Master's degree in Audiology at CSU Los Angeles in 1976, and his Doctorate degree in Audiology at Arizona School of Health Sciences in 2004. From 1977-1992 he held the position of clinical audiologist at the prestigious Sansum Clinic in Santa Barbara. In 1992, he opened Dodero Hearing Center to offer comprehensive diagnostic hearing assessments and the most advanced hearing technologies. Dr. Dodero believes in giving back to the community by offering free hearing screenings, educational classes at retirement facilities, and educational Lunch & Learn seminars that teach skills for the hearing-impaired person to better communicate with others.
About Dodero Hearing Center
Dodero Hearing Center is a full service Audiology clinic providing the most comprehensive hearing care available including hearing protection, diagnostic hearing loss testing and the fitting of hearing aids in Santa Barbara. Dodero Hearing Center uses the most advanced hearing technologies available and takes pride in the fact that as the field of hearing aid technology changes they change with it. Dodero Hearing Center is a multi-line dispensing audiology practice offering quality hearing instruments from many of the top manufacturers including Oticon, Phonak, Sonic Innovations and Widex. Dodero Hearing Center will ensure your hearing aids fit comfortably, work properly, and give you the maximum hearing enhancement available.
Contact:
Dr. David Dodero
http://doderohearing.com
Dodero Hearing Center
1801 State Street, Ste A
Santa Barbara, CA 93101
(805)-284-0889