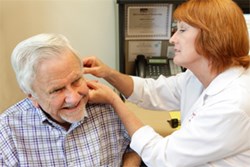 Hearing is a gift we take for granted. Hearing sounds I have been missing is a gift I will keep forever.
Santa Fe, NM (PRWEB) July 28, 2013
Quality hearing aids can be expensive, a fact that anyone who has shopped for the latest digital hearing aids in Santa Fe already knows. A pair of new hearing aids with advanced features is a major investment that can be hard to work into a limited budget. To make it easier for people to afford the hearing aids that their audiologist recommends, Southwestern Ear, Nose & Throat Hearing & Balance Center introduced a financing program offering different hearing aid payment plans including a 6-months, same-as-cash option. This plan has no interest charges on hearing aid purchases for 6 months allowing patients to spread the cost of their new hearing aids across half a year without paying more.
Southwestern Ear, Nose & Throat Hearing & Balance Center hopes that cost won't deter anyone with a hearing concern from obtaining proper diagnostic tests and treatment. The Santa-Fe based practice encourages anyone with financial questions or concerns to contact them directly.
About The Hearing Care Centers of Southwestern Ear, Nose & Throat (SWENT)
Known for comprehensive ear, nose and throat care, SWENT features centers in audiology and hearing aids, sleep disorders, allergies, and same day surgeries – the only all-inclusive office of its kind in New Mexico. At Southwestern Ear, Nose and Throat, we take a team approach to your health care. At the Hearing and Balance Center, the team of physicians and audiologists provides integrated care in the diagnosis and treatment of hearing and balance problems. The company practices a medical, not retail, approach to hearing loss.
About Dr. Kathleen Weidner
Dr. Kathleen Weidner, Au.D., Director of Audiology, is a Fellow of the American Academy of Audiology, ASHA Doctor of Audiology, and state licensed dispensing audiologist who has been practicing audiology for over 15 years. Dr. Weidner earned her Bachelor Degree in Communicative Disorders from the University of New Mexico, her Master of Science degree in Audiology from the University of New Mexico in 1996 and was awarded her Doctoral degree in Clinical Audiology in 2005 from A.T. Still University of Health Sciences, a department of Arizona University of Health Sciences.
Contact:
Dr. Kathleen Weidner
http://swenthearing.com
The Hearing Care Centers of Southwestern Ear, Nose & Throat
1620 Hospital
Santa Fe, NM 87505
(505) 819-0617
The Hearing Care Centers of Southwestern Ear, Nose & Throat
108 Legion Drive, Suite B
Las Vegas, NM 87701
(505) 629-0231
The Hearing Care Centers of Southwestern Ear, Nose & Throat
118 Central Park Square
Los Alamos, NM 87544
(505) 629-0604
The Hearing Care Centers of Southwestern Ear, Nose & Throat
835 Spruce Street, Unit A
Espanola, NM 87532
(505) 629-4412