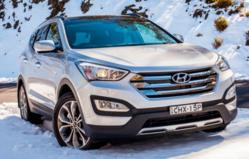 (PRWEB) July 09, 2013
Hyundai Motor Company is pleased to announce the New Generation Santa Fe has been awarded the title of Best Large SUV in leading UK automotive publication Auto Express' New Car Awards.
The Santa Fe beat off tough competition from Euro brands including the Land Rover Discovery 4 which was up for its ninth consecutive award in the category. Santa Fe appeals to customers looking for a large SUV which retains the style and aesthetics of a premium car, but offered in an affordable package.
Steve Fowler, Editor-in-Chief of Auto Express, said: "The Santa Fe has done what many thought was impossible − it's stopped the Land Rover Discovery from winning its ninth consecutive Auto Express award."
"We had high hopes for the Santa Fe and weren't disappointed as it ticks all the boxes for buyers of large SUVs. It has the looks that'll turn heads, wherever you go. It has the comfort needed for long journeys or just trips to the shops. It also has the ability to tackle different terrains and offers huge practicality with space for up to seven people."
Tony Whitehorn, CEO of Hyundai Motor UK, said: "This award is testament to just how far the Hyundai brand and its products have come in recent years. The original Santa Fe − launched back in 2000 − played an important role in redefining our brand with consumers. Now, New Generation Santa Fe has proven that Hyundai can compete with more established brands on its own terms − and win!"
"We think that the New Generation Santa Fe will not only appeal to existing customers with its fresh design and improved levels of standard technology, but will attract a new range of buyers looking for a stylish, premium and authentic SUV."
New Santa Fe went on sale in Australia in 2012 and was awarded the prestigious title of Australia's Best Cars – Best SUV >$40,000 the same year. Driven by the Theta II 2.4L GDi petrol engine, or R-series 2.2L CRDi diesel, it is available with either a 6-speed automatic with electronic manual shift mode or 6-speed manual transmission. The New Santa Fe seven-seat SUV achieves the maximum 5-Star ANCAP safety rating and features a raft of standard safety equipment. The Santa Fe's suspension and steering has undergone extensive Australian tuning to achieve a delicate balance between compliance and control, regardless of road conditions.