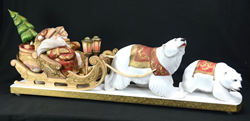 This is by far the greatest Santa Shop the world has ever seen.
Seattle, Washington (PRWEB) November 18, 2014
Santas.com is live and well for the holiday season. It all started 18 years ago as Reasons to Believe, a storefront gallery in Seattle and http://www.reasonstobelieve.com, both homes to provide the gift of Santa. With that experience in understanding customers and collectors, as well as establishing relationships with dozens of the nation's top Santa artists, Santas.com was launched as a way to establish that connection between artists and collectors.
Santas.com knows it's all about the highest quality Santas: Heirloom and museum worthy pieces of art, hand crafted out of solid wood and painted in intricate detail, some with gold leaf, some with wood burning precision, some with century-mastered layering techniques from esteemed artisans and methods of the old world. Bringing one of these Santas home to the family is a wonderful holiday and christmas gift for men, women, children and business colleagues.
With that holiday spirit, santas.com has a legendary pedigree:

18 year history of designing, creating and selling Santas, holiday and Family Christmas gifts
Working with and supporting dozens of Santa artists
Santa family collectors in all 50 states
Extended Santa family in 62 countries, if the place exists, santas.com ships internationally
The most diverse and extensive collection of hand crafted Santas in the world
Here's what Santas.com's customers have to say:
"Merci, Merci beaucoup, ils sont tres tres beaux. We just got your Santas...It's Christmas before time, so happy, so nice, so great! We bought for present... but we will keep for us 2 of them! Thanks a lot and hoping to use your services next year.
Joyeux Noel et Bonne annee." O.F. (France)
"Hello Mister Scott Schultz, many thanks for the 2 Santas. They arrived in best condition! But it was a bit difficult to get them because of german "Burokratie". I had to go to the custom-house in the next village, to tell them what a Santa is? Nevertheless the both are very very pretty, that's the main thing. Again many Thanks and frohe Weihnacht und ein gluckliches Neues Jahr!" All the Best Dr. K.A. (Germany)
"Greetings, I just received the Russian Santa that I ordered… It is beautiful! I was very worried about ordering such a piece without seeing it in person, but the pictures and description on your web site truly were great. I plan to continue to check often on Russian Santa's that you offer. You made my first "web site" purchase a good experience. I will definitely purchase from you again." K.M.F, ND
"I love the new Santa. He is perfect. I cannot tell y'all how much I love him. The santas and the unicorn on the shelves are great, and the bear is a wonderful addition. I have not forgotten to take pictures, and I will e-mail them to you after the first of the year. I hope you have had a Merry Christmas, because you have made mine very special." Thanks again, J. (Texas)
"This is by far the greatest Santa Shop the world has ever seen." T. (Kansas City, Mo)
"We are thrilled with rolling out http://www.santas.com, the brand represents the highest quality of Santas and artists in the world", says owner and president Scott Schultz of 10 Holidays, Inc. "The artists passion and dedication to their craft, along with our fantastic customers who come back year after to year to add to their collections brings us so much joy to our work".
To learn more about santas.com or for more information regarding their artists, contact Scott Schultz at ss(at)santas(dot)com or visit the web site at http://www.santas.com.