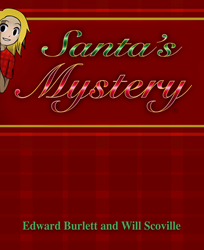 AUSTIN, Texas (PRWEB) April 19, 2019
In our present day where ethnic and racial tensions still exist, a refreshing modern day tale depicts one girl's inspirational journey to discover a childhood mystery that will bring all people together.
Jackie, a 9 year old girl growing up in a small town on the Jersey shore, finds a secret contained in her grandmother's childhood diary that reveals a fascinating, magical gift, that Santa Claus has hidden from the entire world; his ability to transform/morph/change into every ethnicity under the sun. Thus giving "ALL" people a sense of inclusion in an event that boasts nearly 2 billion people worldwide who celebrate the annual tradition of Christmas.
On December 23, 2018, co-creator of Santa's Mystery, Author Edward Burlett appeared on the local San Antonio CBS affiliate KENS5, with Sunday Morning Anchor, Sharon Ko. During this exclusive interview on Sunday Focus, Edward and Sharon discussed the book and the positive message contained on it's pages, as well as the impact Santa's Mystery will have on Santa Claus' true identity and Christmases to come.
Santa's Mystery is a book for children of all ages and contains global relevance.
KENS5 Interview: https://www.youtube.com/watch?v=eqwx-2eZ9Ow&t=16s
Santa's Mystery is published and available on Amazon.com: https://www.amazon.com/Santas-Mystery-Edward-Burlett/dp/0692958835
ISBN: 978-0-692-95883-4
Published: 11/28/2018
All inquiries may be directed to Edward Burlett at 512-554-3055 or Will Scoville at 512-417-2746. Email for the authors is: willandedsantasmystery@gmail.com.
Official Santa's Mystery website: http://www.santasmystery.com