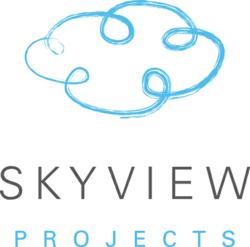 "I am excited to share this new website with our current and potential clients, it represents the clean, straightforward, and innovative approach we bring to our strategic brand marketing initiatives." - Jordan benShea, Owner/Strategist of SkyView Projects
Santa Barbara, California (PRWEB) June 30, 2013
The Santa Barbara-based boutique marketing firm SkyView Projects has launched a new website highlighting its strategic marketing solutions. The new website has been designed with improved user-friendly functionality to explore SkyView Projects marketing services while integrating social media to engage the viewers and audience.
With this new website comes a responsive design allowing for audience interaction from a desktop, to tablet, to mobile with a seamless experience. Another new feature is the updated blog format; SkyView Projects moved from a Tumblr platform to integrating the image-driven blog within the new website, creating an all inclusive user experience. Additionally, the SkyView Projects new website includes a select sample of case studies from the boutique marketing firm highlighting some of the innovative brand marketing work they do for their clients, as well as the ability to share these initiatives through social media.
SkyView Projects provides innovative marketing solutions through strategically integrating traditional, digital, and social initiatives to share the client's brand story. "The branding and marketing process Jordan led us through was thorough, generative and helped develop clarity of vision for our emerging research non-profit. SkyView Projects also jumped into a quick high-end web development for a major fund raising effort. Jordan's team is awesome," stated Dr. J. B. Armstrong, Board Member of SkyView Projects' client Simmaron Research.
"I am excited to share this new website with our current and potential clients, it represents the clean, straightforward, and innovative approach we bring to our strategic brand marketing initiatives, while leveraging social media for audience engagement," stated Jordan benShea, Owner and Strategist of SkyView Projects.
About SkyView Projects
Spearheaded by Jordan benShea, SkyView Projects is a Santa Barbara, California-based boutique marketing firm providing strategic and innovative traditional, digital, and social marketing solutions for businesses and organizations making a difference. SkyView Projects believes your story is your strength and thrives with transparent communication, genuine enthusiasm, consistent attention to detail, open dialogue, and the highest standard of excellence to share your story. For more information, visit http://www.SkyViewProjects.com or join Jordan on Twitter.