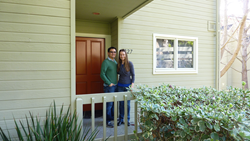 We are so pleased to have helped Katherine and Ignacio on their path to home ownership. Seeing them in their new home is so inspiring.
SANTA BARBARA, CA (PRWEB) April 21, 2015
Ever since Ignacio Ponce started working for Santa Barbara City College, he and his partner Katherine Firkins have had the desire to own their own home in Santa Barbara. Despite their desire to own a home in the city where he works, there was always this thought in the back of their minds: "Will we have to move somewhere else where the housing is more affordable?" Through Santa Barbara City College (SBCC) coworkers, the couple heard about Coastal Housing Partnership (CHP), a nonprofit organization that assists local employees with their home buying needs. Since SBCC is a Member Employer of CHP, its employees are eligible for CHP's savings and benefits when buying a home, refinancing a mortgage, or renting an apartment.
"We attended a Coastal Housing Partnership home buying seminar," said Ponce. "We learned a lot about the home buying process. The information we got from the seminar reassured us we could do it. Every time we asked for information, we always got a prompt and very professional response. This always made us feel more confident during the whole process."
After purchasing their home in Santa Barbara, the couple commented, "We love that our home is actually our's and no one else's! We love that we are actually investing our money rather than paying rent. For us, it is a huge achievement. We know it may sound cliché', but it really feels like "home sweet home" every time we walk in the front door. The wealth of information we received from CHP, their guidance and all the discounts were invaluable. We look back at what the real estate agent credited, the waived closing fees, and home inspection discounts and we really see the savings. All the partners worked on our behalf so we could save even more money over the life of our mortgage."
Coastal Housing Partnership helps local member companies address the challenge of attracting and retaining employees in an area with high housing costs by providing their employees an array of housing benefits. This full-service housing benefit includes home buying education seminars, home buying resources and savings as employees navigate their way through the home buying process, as well as mortgage refinance benefits and rental benefits. "Getting on the path to home ownership requires having the education, tools and resources to be a competitive buyer," says Corby Gage, Executive Director of Coastal Housing Partnership.
"We are so pleased to have helped Katherine and Ignacio on their path to home ownership. Seeing them in their new home is so inspiring."
More than 9,000 employees have attended Coastal Housing Partnership home buying seminars in the past sixteen years, and Coastal Housing Partnership has helped over 10,000 employees become homeowners since its inception. Membership in Coastal Housing Partnership is open to Santa Barbara County and Ventura County employers who want to offer their employees a full service housing assistance benefit in a cost-effective way.
"We really appreciate our employer (SBCC) offering this home buying benefit," said Ponce. "By offering this benefit, it shows the commitment they have to their employee's well-being. Our jobs are really rewarding and SBCC helping make our dream of homeownership a reality is really the icing on the cake. We honestly wouldn't have known where to start. The fact that Coastal Housing Partnership was available to us made a big difference."
"Coastal Housing Partnership will host its 4th Annual Home Buying Fair on May 9, 2015, bringing the tools, resources and information to be a competitive home buyer all under one roof, said Gage. "The fair is a unique opportunity for attendees to get their home buying questions answered and to connect one-to-one with real estate professionals in a relaxed, no-pressure environment. There will be exhibitors including real estate agents, lenders, credit & financial advisors and residential developers, as well as home buying education seminars throughout the day."
The Home Buying Fair will take place on Saturday, May 9, 2015 from 10:00 a.m. to 3:00 p.m. at The Fess Parker Doubletree Resort, Santa Barbara. Tickets are $5 per adult for the general public. Admission is free for employees of Coastal Housing Partnership Member Employers. Parking is free. Welcome Home Sponsors include Bank of the West and Caliber Home Loans. Employer Partners are Cottage Health System and UCSB.
For more information about Coastal Housing Partnership and the 2015 Home Buying Fair, contact melissa(at)coastalhousing(dot)org, call (805) 969-1025 or http://www.coastalhousing.org/home-buying-fair/.
About Coastal Housing Partnership:
Coastal Housing Partnership is a nonprofit organization providing solutions to the impact the high cost of housing has on the recruitment and retention efforts of local employers. The Partnership provides a full-service housing assistance benefit for employees of member companies, including home buying education, home buying savings, mortgage refinancing savings and rental savings. Membership in Coastal Housing Partnership is open to any employer in Santa Barbara County or Ventura County. http://www.CoastalHousing.org.