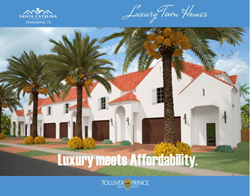 As a developer, it is important to me that I offer a product my customers are proud of...
Greenacres, FL (PRWEB) March 25, 2017
Southwind Construction and Homes, Inc., a custom real estate developer and builder, based out of Palm Beach County, FL, is set to begin developing, Santa Catalina, a 29 unit Luxury Townhome community in Greenacres, FL, in April 2017. While Southwind Construction may sound like a small builder compared to the publicly traded companies, the builder has built and sold over 500 homes in the Palm Beach County area.
Santa Catalina, in Greenacres, FL will feature two different model types. The Catalina 4 is a 4 bedroom, 2.5 Bath, two car Garage unit with 2,063 AC sq. ft. (2,540 Total sq.ft.). The Catalina 3 is a 3 bedroom with a loft, 2.5 bathroom and two car garage with 2,019 AC sq.ft (2,477 Total sq.ft.). Both models are expected to include standard features that are generally considered upgrades with most other builders. Some of these features are Hurricane Impact windows and doors, stainless steel appliances, granite countertops, designer tile, and more.
"As a developer, it is important to me that I offer a product my customers are proud of. I know builders advertise one price and then when it's all said and done, consumers end up paying far more than what was advertised (because of lot premiums and upgrades). While we also offer upgrade options, they are minimal since our standard building package is very comprehensive." Says, John Reichard, Owner Developer.
Southwind Construction has chosen Palm Beach real estate firm, Tolliver Prince Realty, to head up sales for the Santa Catalina community. Tolliver Prince is no stranger to developer representation. Tolliver Prince Realty recently sold out St. Paul Estates, another Southwind Construction 27 single family home project in just 9 months.
"We are excited to handle all sales on this project. With the lack of inventory on the market, and the quality product the builder will be offering, we feel this project will sell out relatively quickly." Says, John Tolliver, Broker Owner of Tolliver Prince Realty
Pre-sales will begin April 1, 2017. For more information about this new community, please go to http://www.santacatalinapbc.com/ or call 561-603-3000.
Visit the showroom at 3098-B Jog Road, Greenacres, FL 33467. On the SE Corner of Jog Road and 10th Ave, in the Buttonwood Plaza – located in the out parcel adjacent to Dunkin Donuts.
Tolliver Prince Realty can be reached at 888-887-2532, by email at info(at)tolliverprince(dot)com or online at http://www.tolliverprince.com.
Media Relations
888-887-2532 ext. 0