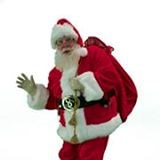 NEW YORK, NY (PRWEB) December 05, 2013
Santa Caught on Tape®, (http://www.santacaughtontape.com) a new Internet service from Park Bench Media, has created a sneak peak for children that will allow them to see Santa in the act without the need to stay awake all night.
Imagine the wonder on Christmas morning when parents, grandparents, aunts and uncles can share a video clip with their loved ones of Santa putting presents under the tree in their own home? Well, wonder no more. Simply take a picture of the family Christmas tree on a smart phone or tablet and Santa Caught on Tape will do the rest.
"Santa Caught on Tape came about from stories my wife and I were recounting to our two boys of the failed attempts we had as children to catch Santa on Christmas Eve," said John Brancaccio, Creator and Executive Producer, Park Bench Media. "The technology is there to support it, so why not offer a product that allows parents to share in the Christmas magic."
Visit http://www.santacaughtontape.com to upload a photo of the family tree and within a few days a professionally edited video of Santa in your living room delivering presents will be sent in return. No two are alike and children will think the impossible has happened: Santa was caught on tape! This service is available for $19.99 and provides a 45-60 second HD quality video clip that can be downloaded to any smart phone, tablet or mobile device.
About Park Bench Media
Park Bench Media is a multi-disciplinary, integrated media company. We make television shows for networks and brands, commercials for clients, documentaries, promos, web videos, motion graphics, websites, and rich/interactive media.