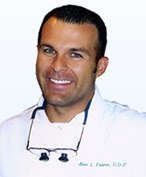 Santa Clara, CA (PRWEB) August 16, 2013
Dr. Alan Frame, Santa Clara dentist, now offers a comprehensive array of cosmetic dental procedures. Whether the patient needs a simple whitening treatment or several cosmetic dental treatments to restore their smile, Dr. Frame can help.
Among the many treatments that Dr. Frame, Santa Clara Invisalign provider, offers are Invisalign aligners. The Invisalign system realigns teeth and corrects the bite without the use of wires and brackets. Instead, it uses clear, durable plastic aligners to straighten the teeth.
Dr. Frame also offers veneers to cover teeth that are worn, chipped, damaged, irregularly shaped, small, or poorly spaced. Veneers can be applied in just two office visits, offering a convenient and highly effective way to correct serious cosmetic dental problems without invasive treatments.
Whitening treatments are available to lift years of stains and discolorations from the teeth. In just one office visit, patients can have teeth that are five to eight shades whiter without the use of hard to apply strips or messy gels and trays.
Dr. Frame, Santa Clara teeth whitening expert, also places dental implants and bridges to replace missing teeth. Implants are titanium rods that are placed in the jaw, forming a permanent replacement for a missing tooth root. Dental bridges is a device that uses a gum-colored plastic base to hold a pontic, or dental crown meant to replace a missing tooth.
Dr. Frame also fills cavities and places dental crowns to repair damaged teeth. Whether the patient needs to cover a badly cracked tooth with a porcelain crown or have an area of tooth decay removed, Dr. Frame can help.
About Dr. Frame, Cosmetic Dentist Santa Clara
Dr. Frame is proud to be a hometown Santa Clara dentist. He graduated from the dental school at the University of the Pacific. After graduation, Dr. Frame completed a General Residency at UCLA. He is an active member of the American Dental Association.
To schedule a consultation with Dr. Frame, Santa Clara dentist, call his office. Dr. Frame will be glad to examine the teeth of either new or existing patients to help them determine which cosmetic dental treatments are needed to correct their dental problems.
Website: http://www.alanframedds.com/
Press Release Submitted by AvitalWeb.com
Kevin Neman
(818) 205-9300