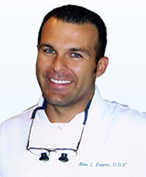 Santa Clara, CA (PRWEB) February 17, 2015
Dr. Alan Frame is now offering a special promotion on Zoom whitening. Zoom is a powerful in-office treatment whitening system that is able to bleach teeth up to eight shades. The treatment can be completed in about an hour, and patients are able to show off their new smiles right away. For a limited time, interested patients can give Zoom a try for just $350, a significant savings from the regular price of $350.
Zoom is one of the most popular whitening systems. Although more at-home whitening products and whitening kiosks are available than in the past, they cannot offer the same results. OTC whitening kits can lighten teeth from three to four shades, and results can be variable and inconsistent. Whitening toothpastes are only effective for superficial stains, and professional at-home treatments can be time and labor intensive. Zoom is one of the few available treatments that can be completed in a single appointment with Santa Clara dentist Dr. Alan Frame, and it offers unparalleled results.
About Dr. Frame, Dentist Santa Clara
Dr. Frame is a popular Santa Clara dentist whose patients appreciate his friendly personality and gentle care. As a native of the Santa Clara area, he is committed to his community. He graduated from Santa Clara University before continuing his studies at the University of the Pacific School of Dentistry, and after graduating with the highest honors, Dr. Frame completed his general practice residency at UCLA. Today, he is a member of the American Dental Association and of two academic dental fraternities. "I am an avid sports fan and offer this advice: If you want to stall the inevitable dental procedure, simply ask my opinion about the most recent football or baseball game and you will have yourself an extra 10 minutes of conversation," he jokes.
Other Available Treatments
According to Dr. Frame's team, "Dr. Frame and his staff consider their patients to be valued friends with unique oral health and cosmetic dental teams. Dr. Frame partners with patients to develop realistic treatment plans that will exceed their expectations and fit within their schedules and budgets. Santa Clara dentist, Dr. Frame, offers numerous treatment options that can transform smiles. Preventative dentistry, general dentistry, restorative dentistry, pediatric dentistry, and cosmetic dentistry are all available, and patients can have tooth-colored fillings, porcelain crowns, ceramic veneers, root canal treatments, or orthodontic treatments performed as needed.