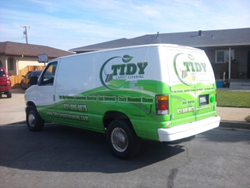 We provide the best price in the area. We aren't greedy. We just want to provide an excellent cleaning service for a reasonable cost so people will use us every time they need the job done
Santa Cruz, CA (PRWEB) July 09, 2013
Carpet cleaning in Santa Cruz is available with a discount because Tidy Green Carpet Cleaning just announced new coupons. The new discounts include a special for 2 rooms for $89, 3 rooms for $99 and 4 rooms for $109. According to Derek Brown, Owner of Tidy Green Carpet Cleaning these are the lowest prices available. "We provide the best price in the area. We aren't greedy. We just want to provide an excellent cleaning service for a reasonable cost so people will use us every time they need the job done," says Derek.
Some Santa Cruz carpet cleaning companies charge a lot more for their services according to Derek. "There are some companies out there charging so much for cleaning that a person could almost buy new carpet for the same amount." The goal of Tidy Green Carpet Cleaning is to rejuvenate the carpet so that it doesn't need to be replaced which saves consumers money.
Move Outs and Rentals
One of the most common requests for carpet cleaning in Santa Cruz they get is from people who are moving out of their rental. Often times people have a hefty security deposit at risk if they don't do a sufficient job of cleaning before they do their final walkthrough. "We understand how important it is for people to get their deposit back when they are moving out. We do everything we can to get all of the stains out and treat problem areas. We know what is on the line," says Derek.
Pet Stains and Odors
Pet stains and the odor that is caused by them is one of the most difficult challenges any Santa Cruz carpet cleaning company faces according to Derek. "The pet stains are always the most challenging. We recommend that people act fast. The longer the pet urine or feces is left, the worse the problem is. We have special treatments available that break down these types of organic stains." Tidy Green Carpet Cleaning also offers a continuous service agreement for people who have problems with pet stains on a continual basis.
To learn more about the Santa Cruz carpet cleaners at Tidy Green Carpet Cleaning please visit their website. Consumers are also invited to view their many positive online reviews on trusted consumer review sites like Yelp, Yahoo and YP.com. They also have informative videos showing stain removal and other procedures. To schedule service please give them a call at (831) 621-1808. They are always ready to perform carpet cleaning in Santa Cruz.