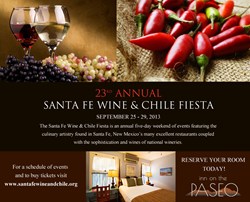 Santa Fe, NM (PRWEB) August 05, 2013
August and September in Santa Fe is an incredibly rich and fun-filled time of year featuring fiestas, harvest, music and cultural gatherings. It is truly one of the most diverse and interesting times to be in this historic city – as we celebrate many of the things that are so bountiful here – with a style all our own.
Inn on the Paseo, a favorite bed & breakfast in Santa Fe, has listed their favorite events and tips for last minute visits in August and September. The Inn still has rooms available, but don't wait long and don't miss these unique events that people wait all year long for.
The Inn has suggested some events starting with mid-August and running through September - wrapping up with the Santa Fe Wine & Chile Festival.
1. August 9th-12th, Mountain Man Trade Fair and Rendezvous
Who can forget Robert Redford as a mountain man in the unique Western "Jeremiah Johnson"? The lure of the Mountain Man is in full swing at the annual Mountain Man Trade Fair and Rendezvous.
The rendezvous, presented by the Palace of Governors, recreates an 1830's event, with period costumes, live music, entertainment, children's hands-on activities, games, food and more. This year's Rendezvous is set for August 9th-12th from 10 am to 4:30 pm at the Palace of the Governors.
2. August 10th-13th, The Santa Fe Show
The Santa Fe Show is an exciting addition to the city's summer season. This four day event, August 10th–13th, will be held at El Museo in the Railyard district. As Santa Fe is a hub for artist and events, the Santa Fe Show is offering the widest range you will find in this city in one place. With 65 exhibitors displaying material ranging from contemporary to historic, antique to modern, the show offers paintings, sculpture, and fine art of all kinds. You'll find furniture, books, fashion, jewelry, textiles, and tribal, folk, American Indian, African, and Asian art.
3. August 12th-18th, 2013, Santa Fe Indian Market
The 92nd Annual Indian Market will be underway August 12th-18th with a week-long celebration of Native American art, cinema, music and clothing, plus all of the other ancillary activities that take place during Indian Market Week.
This spectacular festival brings over 150,000 people to Santa Fe every August with its unique, exciting and inspiring events. From families with young children to avid art collectors, Santa Fe Indian Market attracts international visitors from all walks of life.
For many visitors, this is a rare opportunity to meet the artists and learn about contemporary Indian arts and cultures A unique awards process means that Santa Fe Indian Market awards are the standard by which all other accolades for Native art are measured. The Market awards make and change careers for these artists.
4. August 23rd - 25th, Santa Fe Bluegrass Festival
Bluegrass music is enjoying a resurgence in popularity throughout the country. With the 23rd annual Santa Fe Bluegrass and Old Time Music Festival kicking off August 23rd-25th, it is a chance to become exposed to the unique sound of the "Southwest Pickers."
5. August 31st – September 8th, Fiesta de Santa Fe
The Fiesta de Santa Fe is a particular favorite for those who love to take part in our ancient traditions when Spanish culture influenced and shaped the life of this city. The celebration commemorates the re-conquest of Santa Fe in 1692 by the Spanish after the Pueblo Revolt of 1680. Fiesta opens with a procession bearing a statue of the Blessed Virgin known as La Conquistadora to the Cathedral of St. Francis. Revelry starts with the Thursday night burning of Zozobra, also known as "Old Man Gloom," a huge, animated figure whose demise at the hands of a torch-bearing dancer symbolizes the banishing of cares for the year. The Fiesta closes with a solemn, candle-lit walk to the Cross of the Martyrs.
6. September 5th – The 88th Annual Burning of Will Shuster's Zozobra
The 88th annual torching of 50-foot-tall Old Man Gloom, a puppet stuffed with thousands of scraps of paper bearing the citizenry's sad thoughts, is a highlight of Fiesta time.
Although the Fiestas celebration dates back to 1712, renowned Santa Fe artist Will Shuster added Zozobra in 1924. Kiwanis became officially involved in 1963. Shuster assigned all rights, title and interest in Zozobra on June 19th, 1964 to The Kiwanis Club of Santa Fe, which retains exclusive copyright and Trademark to the figure. Thus Kiwanis continues the Zozobra tradition, and as a major fundraiser has become a great way for locals to participate in community service.
7. September 11th-22nd, New Mexico State Fair
Want to see a rodeo? Just north of Santa Fe – 40 miles away – is the unique New Mexico State Fair.
This is an annual state fair held for 17 days in September at Expo New Mexico (formerly the New Mexico State Fairgrounds). The event features concerts, competitions, rodeos, carnival rides, games, farm animals, horses, agriculture and art.
8. September 21st and 22nd - Santa Fe Renaissance Fair
The Santa Fe Renaissance Fair event features medieval combat, jugglers, live entertainment and dancers. It is a great event for families that activities for all ages. The fair takes place at El Rancho de las Golondrinas, a Spanish colonial outdoor living history museum, with 200 acres of historical recreations, including working gristmills, a blacksmith, a wheelwright and many other outstanding attractions.
9. September 25h-29th Santa Fe Wine and Chili Festival
This event coincides with the chili roasting season throughout New Mexico. Early fall is the time of year to harvest the chilis and it is celebrated in Santa Fe with the 23rd edition of the Wine and Chili Festival featuring 75 great Santa Fe restaurants and 100 world class wineries partnering in 5 guest chef luncheons, 6 cooking demonstrations by the Santa Fe School of Cooking, 8 wine and food pairing seminars, 40 nightly wine dinners and the piece de resistance, the Grand Tasting on Saturday afternoon September 28th at the Santa Fe Opera. That is a lot of chili time.