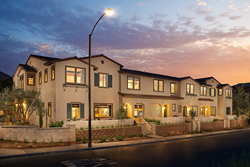 Our Phase 3 home sites offer some of the best views of Mission Trails Regional Park
Santee, California (PRWEB) September 27, 2016
City Ventures' Mission Trails Collection in Santee continues to sell new homes at an incredible rate. The brand new community recently released the latest phase of residences for sale on September 3rd and within a week sold six homes.
Offering new, unique designs and open spaces featuring up to 4 bedrooms, 3 bathrooms and approximately 1,427–1,912 square feet, these distinctive homes provide plenty of room to live and grow in a central location for the whole family. It's no surprise they're selling fast – or that 32 homes have already been sold in the last two months.
One of the more unique, available homes in Phase 3 is the spacious Plan 3 on Lot 704. Featuring 3-4 bedrooms, 3 bathrooms and up to 1,912 square feet, this larger residence offers sweeping views of the Mission Trails area, and boasts the largest yard in the entire community.
"The Phase 3 home sites offer some of the best views of Mission Trails Regional Park," says Kurt Hummel, Sales Manager of the Santee Mission Trails Collection. Out of the homes currently available, only two of the more unique Plan 1 residences remain. Featuring up to 3 bedrooms, 2 baths and approximately 1,456 square feet, this plan offers a low-maintenance space for those looking for something a little different.
Each home is equipped with energy-efficient features that bring more green into your lifestyle and pocket. Enjoy EnergyStar® rated high-efficiency appliances, including the Hybrid Electric Water Heater that features the latest in heat pump technology. Kohler® faucets and showerheads offer significant water savings and reduced water costs, while Champion® dual-glazed windows with ultra-violet coatings offer insulation against both cold and heat.
Thoughtfully designed using earth-friendly building standards, enjoy decreased energy payments, smart heating and cooling systems, and a home that's pre-wire ready for electric vehicle chargers in your garage. Additionally, all solar energy is generated and used onsite, powering everything in the home – even when the sun doesn't shine.
Building in desired urban and premier suburban locations, City Ventures raises the bar by offering eco-friendly elements in homes that are strategically located within neighborhoods designed to promote health and wellness by putting you closer to everything you love. Connected, contemporary, and inventive, the Mission Trails Collection is a smart choice to call home.
Starting from the mid $400,000s. Contact today for more information by calling (619) 438-0115 or by emailing MissionTrailsCollection(at)CityVentures.com. Sales Center open daily from 10am – 6pm at 7547 Canyon Drive, Santee, CA 92071.