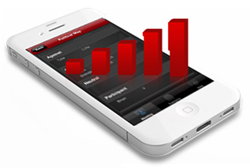 Partnering with enosiX helps us work even more effectively with clients requiring SAP integration.
Nashua, NH (PRWEB) May 29, 2015
Zco Corporation, a Greater Boston area custom software development company, is announcing a new partnership to offer lower-cost Enterprise Resource Planning (ERP) integration with faster turnaround time on custom mobile app development services.
Zco's partner, Cincinnati-based enosiX, provides a framework enabling .NET developers to create custom mobile apps that access ERP backend systems with ease. Utilizing a .NET engineer rather than an ERP specialist to plug into a backend system like SAP, Oracle, or Microsoft Dynamics results in a shorter development timeframe and less capital outlay. The framework offers the end client better speed, price, and customization, so mobilizing its workforce isn't as daunting or expensive as before.
Custom ERP apps are in high demand, but development resources are highly specialized and can be difficult to find. Because of this, dedicated ERP developers can cost as much as $150-$250 per hour. With its enosiX partnership, Zco Corporation applies 25 years of diverse experience for the same end result at a fraction of the cost.
Custom enterprise mobile apps help businesses in a variety of ways, such as increasing performance efficiency, expediting approvals, enabling point of sale on mobile terminals, and accessing real-time data on the go. Despite the benefits, the cost of custom enterprise mobile applications can be a hindrance. According to Gartner, "A notable portion of an overall mobile app project cost - as much as 70% in some cases - can be attributed to integrating the mobile app with established enterprise applications, services and data sources."
The enosiX framework is an ERP integration solution, connecting developers with data and business processes to deliver native app experiences. It enables .NET developers like those on Zco Corporation's large team to access ERPs via a humanized Application Programming Interface (API) using a familiar development suite. With no middleware, the cost of maintaining the apps is also greatly reduced.
"Our custom software development services have evolved over the last 25 years," said Don Austin, Zco's Vice President. "We have always embraced frameworks that make programming more efficient for enterprise websites, backend systems, frontend desktop software, and mobile apps. Partnering with enosiX helps us work even more effectively with clients requiring SAP integration."
"For large corporations implementing mobile strategies speed in initial development, and in deploying updates, is a key focus", says Philippe Jardin, President and Co-Founder at enosiX, Inc. "Zco's dedicated .NET resources and experience in enterprise software development is a good match for the advantages our Framework provides to this market."
About Zco Corporation: Zco Corporation is a tried-and-true software development company that has been living and breathing technology for over 25 years. A proven and reliable vendor choice, Zco is passionate in its mission to create attractive, resilient products for its clients. Its powerhouse team, one of the largest in the world, was handpicked for specialties in mobile app development, enterprise software, and animation services. To learn more, visit Zco.com or call 603.881.9200.
About enosiX, Inc: The enosiX Framework enables .NET developers to create apps that access ERP back end systems with incomparable ease. Based in the Cincinnati area, enosiX boasts a worldwide customer base of more than 100 SAP users leveraging the Framework to quickly create, deploy, and maintain native apps that mobilize business processes and make them more competitive.