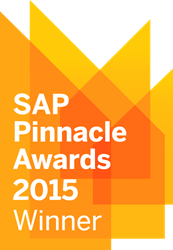 We invested early on with SAP in building a vast portfolio of mobile solutions, and this recognition underscores our leadership and market successes around application development for the SAP Business Suite.
Houston, TX (PRWEB) April 09, 2015
SAP presents these awards annually to the top partners that have excelled in developing and growing their partnership with SAP and helping customers run better. Winners and finalists in 22 categories were chosen based on recommendations from the SAP field, customer feedback and performance indicators in the following umbrella categories: Exponential Growth, Cloud, Platform and Value Creation.
"We are very proud to receive the prestigious SAP Pinnacle Award," said Hari Kamineni, CEO and co-founder of Innovapptive. "We invested early on with SAP in building a vast portfolio of mobile solutions, and this recognition underscores our leadership and market successes around application development for the SAP Business Suite. It also recognizes Innovapptive's success in its efforts to develop state-of-the-art solutions based on SAP solutions for mobility, user-experience and cloud technologies, thereby bringing greater value to our joint customers."
Through participation in the SAP PartnerEdge® program for Application Development, Innovapptive is able to provide customers across the world with leading-edge, mobile and user-experience solutions. Specifically, the Innovapptive mPower™ AppSuite portfolio of mobile solutions is designed to leverage the power of SAP technologies including SAP Mobile Platform, SAP HANA® Cloud Platform, SAPUI5 and SAP Fiori® applications. This award recognizes Innovapptive's ability to build innovative solutions based on SAP technologies, solutions that address critical customer needs and support SAP technology adoption.
"More and more companies are choosing solutions from SAP than ever before, and in many ways, we attribute that to the strength and commitment of our partners," said Rodolpho Cardenuto, president, Global Partner Operations, SAP. "Together, we are working with partners like Innovapptive to help our customers run simply and at their best. Innovapptive exemplifies leadership and a can-do attitude, and we congratulate everyone involved in Innovapptive's organization for this well-deserved 2015 SAP Pinnacle Award."
Through its participation in the SAP PartnerEdge program for Application Development, Innovapptive has been building and commercializing standard software applications on SAP platforms. Specifically, Innovapptive offers mobile apps from the cloud using SAP HANA Cloud Platform mobile services, which are designed to drive mobile business innovation with simplicity by connecting people, devices and business networks using SAP's unique end-to-end capabilities covering the development, staging and secure deployment of mobile apps. SAP HANA Cloud Platform mobile services help customers build and deploy native and hybrid mobile apps that integrate securely with on-premise or cloud-based systems.
SAP Pinnacle Awards shine a spotlight on SAP's partners' remarkable contributions, acknowledging their dedication to teamwork, innovative approach and capacity to challenge what is possible to help customers achieve their goals. Award winners will be formally recognized at the SAP Global Partner Summit being held on May 4, in conjunction with SAPPHIRE® NOW, SAP's international customer conference being held in Orlando, Fla., May 5–7.
About Innovapptive
Innovapptive is a 2015 SAP Pinnacle Award winner, a 2014 SAP Pinnacle Award finalist and a 2014 SAP Mobile App Challenge winner. Innovapptive is focused on enabling instant mobilization for global 2,000 customers, by accelerating their time to market and value. Innovapptive helps customers achieve instant mobilization through one of the world's largest portfolios of mobile apps on SAP Store, which are capable of running both on native operating systems and SAP Fiori. Innovapptive's portfolio of mobile apps is complemented by proprietary technology to allow limitless customizations through simple configurations. By leveraging these mobile solutions and technology, together with a cloud-based enterprise-branded app store and a configurable app wrapper security tool set, several of the world's largest customers have instantly mobilized their enterprises in as few as four to six weeks.
SAP, SAP HANA, SAP Fiori, SAPPHIRE and other SAP products and services mentioned herein as well as their respective logos are trademarks or registered trademarks of SAP SE (or an SAP affiliate company) in Germany and other countries. See http://www.sap.com/corporate-en/legal/copyright/index.epx for additional trademark information and notices.
All other product and service names mentioned are the trademarks of their respective companies.
SAP Forward-looking Statement
Any statements contained in this document that are not historical facts are forward-looking statements as defined in the U.S. Private Securities Litigation Reform Act of 1995. Words such as "anticipate," "believe," "estimate," "expect," "forecast," "intend," "may," "plan," "project," "predict," "should" and "will" and similar expressions as they relate to SAP are intended to identify such forward-looking statements. SAP undertakes no obligation to publicly update or revise any forward-looking statements. All forward-looking statements are subject to various risks and uncertainties that could cause actual results to differ materially from expectations. The factors that could affect SAP's future financial results are discussed more fully in SAP's filings with the U.S. Securities and Exchange Commission ("SEC"), including SAP's most recent Annual Report on Form 20-F filed with the SEC. Readers are cautioned not to place undue reliance on these forward-looking statements, which speak only as of their dates.