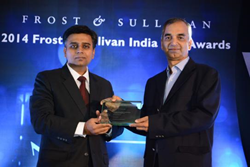 Sapience demonstrated superior performances in areas such as leadership, technological innovation, and strategic product development which enabled them to drive business growth in their respective market segments. Benoy CS, Director, ICT Practice, Frost &
(PRWEB) June 28, 2014
Sapience Analytics announced today that it was received the coveted Frost & Sullivan ICT Award for Product Innovation (Functional Analytics). This is Sapience's third big award of the year. This award recognizes the unique solution for transforming enterprise productivity that has been developed by Sapience Analytics, the business value that it is creating for a large number of enterprise customers, and its exceptional market traction in the year 2013-14.
The winners in various categories were announced on 24th June at an Awards ceremony in New Delhi. On the occasion, Benoy CS, Director, ICT Practice, Frost & Sullivan, said, "For the Indian ICT Industry, 2013 was equally a challenging and an exciting year. Uptake in internt, cloud services, mobility, big data, and analytics were the key highlights for the year in this region. We also witnessed emergence of new innovative business models and strategies to cater to rapidly changing customer needs. Despite the challenges in the economy, Sapience demonstrated superior performances in areas such as leadership, technological innovation, and strategic product development which enabled them to drive business growth in their respective market segments."
This is the 12th year for the ICT Awards in India. The winners have been declared on the basis of a unique, deep dive research and analysis conducted by the Frost & Sullivan team. The recommendations were then evaluated by an esteemed, independent panel of Judges comprising of veteran CIOs representing the top companies in India. A structured metrics based evaluation process led to the selection of the winners.
Shirish Deodhar, CEO & cofounder, Sapience Analytics, noted that "We are delighted to have won three prestigious awards this year, (one in Silicon Valley and two others in India). They are an affirmation that Sapience is the pioneer and only global player currently in the space of 'Automated Enterprise Effort Visibility' helping employees better their work habits and become more productive.
Sapience is a patent-pending software product that delivers over 20% increase in organization productivity. It enables managers to guide their teams towards more focused effort, while helping employees to improve their work-life harmony. Sapience is amongst the fastest growing firms in the emerging landscape where 'value creation' through innovative products is the global phenomena instead of just providing 'services for hire'. Sapience customers find that it promotes transparency, and enables them to implement progressive HR policies such as Work from Home, flexi work hours, and promoting more innovation.
About Sapience Analytics (http://www.sapience.net)
Sapience Analytics, founded in 2009, has scaled to 100000 users at 60+ installations that include 2 Fortune 200 global enterprises, 4 of India's Top 10 IT firms, global MNCs, and many large and medium sizes firms in verticals such as IT, BPO/KPO, Engineering Services, Finance, and Manufacturing.
Sapience is a recipient of several industry awards for its innovation and fast growth, including TiE50 (Top 10 in Software category - 2014), Dun & Bradstreet (Best Emerging SME – 2013), NASSCOM Emerge (India's Top 10 - 2013), iSPIRT (Innovative Tech 50, & Most Popular Product Company - 2014), IDG Channel World (50 Hot Global Companies - 2013), Red Herring (Asia Top 100 technology start-up - 2011).
Media Contact:
Avani Nagwann
Marketing Manager - Sapience Analytics
avani(at)sapience(dot)net