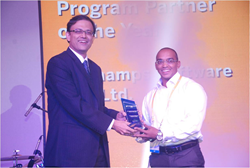 It is a pleasure to be honored by this award as the Best Partner in the EBM category. With our new offering of SAP on Cloud focused at benefiting Small and Medium Businesses with SAP Best Practices, said Mr. Rajesh Kutnikar, CEO ITChamps Software
Mysore,Karnataka (PRWEB UK) 13 June 2014
In recognition of its outstanding contributions as an SAP partner, ITChamps Software Pvt. Ltd. based out of Mysore,Karnataka today announced it has received SAP® Partner Award 2014 for the Extended Business Program Partner of the Year category.
SAP Partner awards are presented annually to the top SAP partners that have excelled in developing and growing their partnership with SAP and driving customer success. Finalists and winners in 13 categories were based on field recommendations, customer feedback and performance indicators in the following five umbrella categories: Run Together (for co-innovation), Run Further (for market expansion), Run Clever (for service delivery), Run Sustainably (for sustainability) and new for 2014 Customers' Choice.
Mr. Rajesh Kutnikar, CEO ITChamps Software commented that, "It is certainly a pleasure to be honored by this award as the 'Best Partner' in the EBM category from SAP. This encourages and motivates growing companies like us to perform to the best of our abilities. The entire SAP partner management team, Sales and Marketing teams have been very supportive of us during the past year. With our new offering of 'SAP on Cloud' focused at benefiting Small and Medium Businesses with 'SAP Best Practices', we look forward to achieving similar feat this year too."
The SAP Partner Awards 2014 shine a spotlight on SAP's partners' remarkable work, recognizing their intelligence and their capacity to challenge what is possible to help customers run better. Award winners were formally recognized at the 2014 SAP Partner Summit, held in Mumbai on May 28, 2014.
About ITChamps Software Pvt. Ltd – http://www.itchamps.com/
ITChamps Software Private Limited is a pure-play SAP consulting firm, operational from Mysore, India since2005. ITChamps is a very active member of Extended Business Member program& is also SAP Education partner providing online training to customers and aspiring consultants at Mysore. The esteemed company also provides free internship program to all the students coming out of its SAP E-Academy at Mysore to ensure that they are more industry-ready. ITChamps also conducts its fresher recruitments from certified consultants coming out of other SAP education partners' training centers. ITChamps in India has successfully executed several implementation and roll-out projects on its own as well as worked closely with SAP India Consulting and Other SAP partners maintaining 100% success rate on all the engagements. The hardworking & diligent ITChamps team has successfully delivered on several successful engagements outside India as well including AUC in Egypt, ROBI in Bangladesh and several other engagements through partners in USA and middle east.
For more information,
Rajesh Kutnikar,
raj(at)itchamps(dot)com
91 997 201 5101
Rachana Chowdhary
rachana(at)mediavalueworks(dot)com
+91-9619776084