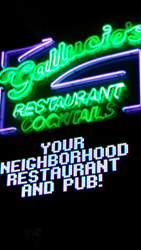 In honor of our anniversary, we will be giving back to our patrons all year long, including offering a variety of coupons.
Wilmington, DE (PRWEB) March 03, 2016
Greg Dorak of Gallucio's Italian Restaurant is proud to announce the establishment is celebrating forty-five years in business. "We are privileged to have served the Wilmington area for so many years," said Dorak, general manager of Gallucio's, which has been named Delaware's Best Italian Eatery & "Irish-Style" Pub. "In honor of our anniversary, we will be giving back to our patrons all year long, including offering a variety of coupons."
Gallucio's is also featuring a new menu. Menu items include bruschetta, fried calamari, chicken parmigiana, sauteed seafood, a variety of pizza and a signature burger menu paying tribute to the Forty Acre neighborhood that Gallucio's is a part of. Gallucio's is housed in what are the last three remaining buildings of the Hartman and Ferenbach Brewery, built in 1865, which once encompassed the entire block.
"Generations of families, groups of friends and sports teams have celebrated many milestones here over the years and Gallucio's has allowed this neighborhood institution to endure," said Dorak. "We look to remain loyal to the restaurant's roots by serving the best quality Italian fare and so much more in a comfortable atmosphere at an affordable price."
In addition to the restaurant, Gallucio's also consists of an Irish-style pub. It features ten TV screens, one of the largest and most reasonable craft beer selections in Wilmington and a fully stocked bar with a variety of domestic and imported drafts on tap. Nightly entertainment has also been a favorite of the clientele over the years. Classic rock, bar trivia, outstanding jazz and karaoke are offered every week, along with a new open-mic night for area musicians to try out new, original material.
About Gallucio's
Gallucio's serves quality Italian fare using authentic Italian cooking methods and the freshest ingredients. Gallucio's also offers casual bar fare, online ordering, take-out and delivery, and takes reservations for large parties of up to fifty people. For more information, please call 302-655-3689, or visit http://www.gallucios-de.com. The restaurant is located at 1709 Lovering Ave., Wilmington, DE 19806.
About the NALA™
The NALA offers small and medium-sized businesses effective ways to reach customers in the digital age, while providing a single-agency source that helps them flourish in their local community. The NALA offers its clients an array of marketing tools from press release campaigns and social media management to a cause marketing program. The NALA's mission is to make businesses relevant and newsworthy, both online and through traditional media, by providing increased exposure at reasonable costs. For media inquiries, please call 805.650.6121, ext. 361.