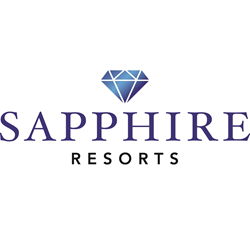 Las Vegas (PRWEB) July 09, 2015
Besides gambling, one of the first things people think of when asked about Las Vegas are the buffets. Eye-widening spreads of seafood, salads, desserts and hand-cut meats can cause even the most austere of folks to run salivating for the dinner plates. To ensure visitors get the most for their dollar, Sapphire Resorts™ Group has released its list of the top 3 buffets in Sin City.
Wicked Spoon: Taking a step away from the waste that usually accompanies most buffet restaurants, the Wicked Spoon portions out their items on smaller dishes. But hungry travelers shouldn't fear: this buffet's selection is one of the best in Vegas. According to Sapphire Resorts™ Group, customers may select from such staples as shrimp and mac and cheese to adventurous fare such as bone marrow, dim sum and goat cheese beet salad. Happy hour at the Wicked Spoon is 5 to 7 p.m., and it's open every day of the week.
Golden Nugget: Located on Fremont, this buffet has maintained a reputation as being one of the best in Las Vegas' downtown. Sapphire Resorts™ Group knows that the wait staff are friendly and accommodating, which helps make customers all the more comfortable as they partake of the wide variety of dishes being offered. Brunch here is popular with its bottomless mimosas and omelet station, but visitors shouldn't forget about their amazing seafood dinners, either. Sapphire Resorts™ Group also recommends a trip to the Golden Nugget Buffet's dessert bar for some bread pudding with bourbon sauce. The buffet closes at 10 p.m. daily.
Bacchanal Buffet: Located in Caesars Palace, Bacchanal Buffet was named the best buffet of 2013 by the Las Vegas Review-Journal and the "Best Buffet in Las Vegas" by USA Today multiple times. Nine different kitchens prepare more than 500 different dishes, and some of the items change daily at the whim of the chefs. Even more amazing is that each kitchen has a culinary theme of its own. Sapphire Resorts™ Group lists Bacchanal Buffet's made-to-order dessert crepe bar as the best dessert stop in the city. Champagne brunch takes place every Saturday and Sunday from 8 a.m. to 3 p.m.
With world-class customer service and years of experience in the industry, Sapphire Resorts™ Group creates dream vacations for its members. Sapphire ensures even the most well-traveled client is surprised at the level of comfort and luxury they provide vacationers. Everyone looking for more out of their travels may learn more by visiting http://staysapphire.com/
###
Press release distributed by JW Maxx Solutions, a leader in content management solutions and part of a family of companies that includes Enterate Ahora.