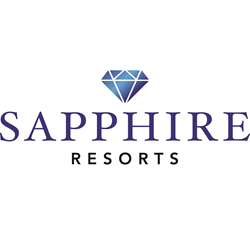 Las Vegas (PRWEB) August 11, 2015
Sapphire Resorts™ Group says there is no better place than Las Vegas to tie the knot, with a huge selection of venues for both the ceremony and the reception. Newlyweds can even book their honeymoon here.
For brides who like to plan ahead, one of the best ways to get prepared is by attending the Bridal Spectacular "Veils & Vino Event" at the Cashman Center Aug. 21-22. The event takes place from 6 to 10 p.m. the first day and 11 a.m. to 4 p.m. the second day.
Sapphire Resorts™ Group knows there may still be brides and grooms wondering what this expo can do for their wedding day. Thus, Sapphire offers up its list of top reasons to attend the Bridal Spectacular.
Low prices: General admission tickets for the expo are $15 for both days, while "very important bride" tickets are $25.99. The latter ticket price includes a "Spectacular Bride" or "Spectacular Bridal Party" T-shirt as well as special seating at the Fashion Show for brides who arrive 15 minutes early. And for the grooms, Sapphire Resorts™ Group says they receive free admission on the first night of the event.
Win prizes: Guests will have a chance to register for prizes like a $1,000 gift certificate from D & R House of Diamonds; a dessert buffet from Mad Batter Café; a weekend getaway at the Aquarius Casino Resort in Laughlin; and much more.
One-stop shop: Brides and grooms will both enjoy the array of wedding specialists in multiple categories, says Sapphire Resorts™ Group. These professionals include representatives from reception facilities, florists, bakers, bridal shops, tuxedo shops and DJs. Better yet, some vendors will even offer specials discounts and special pricing for attendees. Sapphire Resorts™ Group says having all of these vendors in one spot will save couples time that might have been spent driving to all of their individual locations.
Sapphire Resorts™ Group reminds visitors that the Bridal Spectacular is huge; brides can spend at least 4 to 5 hours walking around. It is highly recommended that attendees bring comfortable walking shoes.
No matter what type of entertainment travelers are looking to experience, Sapphire Resorts™ Group has the connections and inventory to help them plan a dream vacation. Concerts, conventions, beach-side relaxation – Sapphire Resorts™ Group is the industry leader travelers in the know choose when they want to experience exciting events while enjoying luxurious accommodations. To learn more, visit http://staysapphire.com/
###
Press release distributed by JW Maxx Solutions, a leader in content management solutions and part of a family of companies that includes Enterate Ahora.