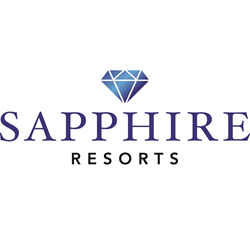 Use these helpful tips courtesy of Sapphire Resorts Group to plan a wedding in Las Vegas:
Las Vegas (PRWEB) October 29, 2015
Planning a destination wedding in Las Vegas can take some work, and now Sapphire Resorts Group offers tips that can make this experience go off without a hitch. While wedding bells ring frequently in the entertainment capital of the world, preparations can make the big day truly special. Luxury vacation provider Sapphire Resorts Group offers thoughtful insight that can turn ordinary nuptials into extraordinary weddings.
Use these helpful tips courtesy of Sapphire Resorts Group to plan a wedding in Las Vegas:

File proper paperwork. Just like most other cities, Las Vegas requires each couple to fill out a marriage certificate. This document can be obtained by presenting a form of ID at the Las Vegas Marriage Bureau.
Make it unique. Getting hitched in Las Vegas is something that many folks plan to do. Sapphire Resorts Group encourages guests to make their wedding ceremonies unique by adding that personal stamp that can set each event apart.
Secure a chapel. While there are plenty of Las Vegas chapels that are open all hours, some may require advance booking. Look online, speak with staff members and if possible, take tours before deciding.
Prepare the wedding wardrobe. Brides and grooms wanting to look their best on the big day will need to dress accordingly. Plan on bringing suitable attire or provide enough time to adequately shop for the right outfits in Las Vegas ahead of time.
Capture the experience on film. The professionals at Sapphire Resorts Group know the importance of memorializing a couple's special occasion. If there won't be any skilled photographers attending the wedding, plan to hire someone to take photos before, during and after the wedding.
Don't forget the honeymoon. One of the best things about planning a destination wedding is having both the wedding venue and honeymoon location in the same place. Sapphire Resorts Group specializes in making honeymoons special, so don't neglect this fun part of getting married.
When heading to Las Vegas to get hitched, there are a few things to keep in mind. Using these tips as a guideline can relieve some of the stress and increase the joy of this exciting time. For more information on these great events and assistance with other travel planning needs, contact Sapphire Resorts™ Group today.
http://staysapphire.com/
844.4SAPPHIRE
###
Press release distributed by JW Maxx Solutions, a leader in content management solutions and part of a family of companies that includes Enterate Ahora.