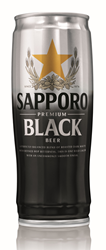 New York, NY (PRWEB) August 16, 2016
SAPPORO U.S.A, brewer of premium lagers sold in the United States for more than 50 years, today announced the launch of Sapporo Premium Black, its first new product in the U.S. market since 2004. Sapporo Premium Black is a bold and flavorful dark lager that marks a pioneering effort for the Sapporo Brand into the world of dark beer.
"We've always believed Sapporo to be versatile, and so we called upon our longstanding commitment to quality craftsmanship and advanced brewing processes to produce a dark lager that breaks the mold of how consumers see our brand," said Louis Orui, President, SAPPORO U.S.A. "The addition of Sapporo Premium Black further diversifies our portfolio of beers and encourages existing Sapporo fans to move beyond the perception that we are strictly a brewer of fine lighter lagers."
Sapporo Premium Black is 5% ABV and packaged in a distinctly designed variation of Sapporo's signature 22oz. steel can, embodying the same combination of cutting edge style and time-honored tradition that has defined Sapporo for 140 years. Carefully created from select barley and hops, Sapporo Premium Black is complex, yet notably smooth. The robust beer offers aromas of chocolate and roasted dark malt, complimented by a sweet, round fullness of black coffee on the palate.
The rich flavor makes Sapporo Premium Black well suited for pairing with a variety of hearty and spicy dishes from around the world, including traditional German, Asian, Cajun and Latin cuisines. Pairing recommendations include grilled, roasted or blackened meats, burgers, smoked sausages, and hearty seafood such as swordfish or tuna.
Officially launching September 1, Sapporo Premium Black will join a Sapporo brand family that also includes Sapporo Premium, Sapporo Reserve and Sapporo Premium Light.
For more information on SAPPORO U.S.A and Sapporo Premium Black, please visit http://www.sapporobeer.com
About SAPPORO U.S.A, Inc.
Sapporo U.S.A, Inc., a subsidiary of Sapporo Holdings Ltd., was founded in 1984 in order to maintain the high quality standards and distribution of the Sapporo brand throughout the United States. The Sapporo brand was founded in Sapporo, Japan in 1876, when a German-trained brewer named Seibei Nakagawa, combined his advanced brewing knowledge with his passion for Japanese craftsmanship to create a one-of-a-kind beer. Lauded for their famously crisp and refreshing taste, Sapporo lagers have been enjoyed by stylish and contemporary, yet selective beer-loving consumers for more than half a century in the United States. Made from only the finest natural ingredients, all Sapporo products sold in the U.S. are brewed in the U.S. and Canada.