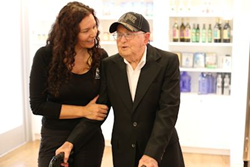 Albert Weber has followed my program with EECP since 1999, and he celebrated his centennial birthday with Global Cardio Care. ~Sara Soulati, CEO of Global Cardio Care, Inc.
Los Angeles, CA (PRWEB) July 23, 2014
Global Cardio Care, Inc., a management company for physician practices delivering Enhanced External Counterpulsation (EECP), is celebrating the 100th birthday of Albert Weber, a patient who receives EECP therapy at the health center.
Weber has been plagued with angina pectoris and ischemic heart disease. Since receiving ongoing EECP therapy since 1999, he no longer suffers from either diagnosis.
When Sara Soulati, CEO of Global Cardio Care, introduced the Sara Soulati Health For Life Program to complement EECP therapy, Weber was one of the first to adopt the lifestyle program to fight heart disease.
The Sara Soulati Health For Life Program is a vegan, plant-based nutrition and exercise program consisting of 35 hours of audiotapes to educate patients about lifestyle modification to fight and prevent cardiovascular disease. Soulati developed the preventive program after seeing the deficiency in patient education to help prevent and reverse cardiovascular disease.
In 1996 Soulati launched her career as a practitioner and pioneer of EECP therapy and in preventive lifestyle modification. She has a strong network of people who seek her expertise in both areas. Soulati has been working with physician practices since 1996 in Southern California, and Albert Weber has followed her from center to center to receive EECP therapy and Soulati's lifestyle modification program.
"Albert Weber is one of the dearest people I know, and he is part of my family. On his 100th birthday, he came for his EECP treatment and to celebrate his momentous day with me," said Sara Soulati, CEO of Global Cardio Care, Inc. "He shared with me 'I am so grateful to have received this treatment all these years, and I truly believe in my heart that EECP is the reason I have lived to this age with such great quality of life. EECP is just common sense because it's all about circulation. It's not about living a long life, it's what you do with your life that matters.'
Albert told me my program taught him to eat right and have positive thoughts that gave him hope. It was truly an honor to have celebrated Albert's centennial birthday with him."
About Sara Soulati and Global Cardio Care, Inc.
Sara Soulati is CEO of Global Cardio Care, Inc., a company she founded in 2002 in Los Angeles to manage physician practices dedicated to EECP therapy.
Soulati believes in empowering people because cardiovascular disease is a preventable and reversible disease. Her message is clear that coronary artery disease does not need to exist and if it does, it does not need to progress. Soulati's vegan, plant-based lifestyle program, the Sara Soulati Health For Life Program, is one of her primary tools to arm people with against cardiovascular disease. Soulati's goal is to one day abolish heart disease, and she works tirelessly to that end daily.