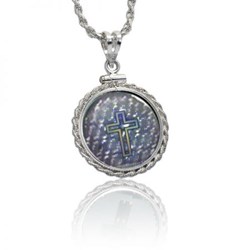 It's beautiful jewelry, but the technology is what makes it truly special.
Rochester, NY (PRWEB) November 07, 2013
NanoRosetta, LLC, announced today the launch of Sarah Ha Jewelry. Sarah Ha Jewelry uses NanoRosetta's proprietary nano-engraving technology to inscribe the entire Holy Bible onto a legacy medallion. The medallion, a nickel disk mounted on a sterling silver bezel, is archival quality, proven to be microscope readable for thousands of years.
"Everyone who's seen the pendants has asked where they can buy one," CEO Christopher Cotton said. "It's beautiful jewelry, but the technology is what makes it truly special."
Founder and President Bruce Ha said, "It's our charter to archive humanity's most important and beautiful documents. We hope people who share this passion will join us as carriers of these sacred scripts."
Sarah Ha Jewelry currently offers a King James 1611 Holy Bible pendant. The Book of Mormon and Torah will be available for purchase by January 1. Other documents are planned, including the entire works of Shakespeare, the names on the Vietnam Memorial, and Pi to the millionth digit.
The Holy Bible legacy medallion necklace is available exclusively online at http://www.sarahha.com. Orders taken before December 18 are guaranteed for Christmas delivery.
About Sarah Ha Jewelry
Sarah Ha Jewelry (http://www.sarahha.com) is a line of jewelry that utilizes nano-engraving technology to capture archival-quality, microscope readable text. This proprietary technique can record the entire Holy Bible onto a disk the size of a dime. The Sarah Ha Jewelry line is made in the USA, and 10% of profits are contributed to feed the homeless.
About NanoRosetta
NanoRosetta, LLC (http://www.nanorosetta.com) was founded in 2012 to provide solutions for security authentication and consumer applications like archival data solutions, and other diffractive optical applications. Their patented technology creates polar raster scanned CGH (computer generated holograms), DOE's (diffractive optical elements) printing plates used in the creation of micro- and nano-imprinted products. Their technology allows them to digitize and record an image at 10 times the resolution and a fraction of the time of traditional holography, producing images at a cost that has been unattainable to date. Already in use by market-leading software companies, this technology is seen as next-generation for security and archival technologies.