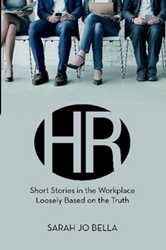 RALEIGH, N.C. (PRWEB) May 10, 2016
A collection of fictional stories set in the workplace and based loosely on the truth, "HR: Short Stories in the Workplace Loosely Based on the Truth" (published by Lulu) is a product of author Sarah Jo Bella's experience in corporate America. Listening to her co-workers vent their experiences with management, she decided to translate some of their stories into a fictional format.
"Getting to a resolution starts with conversations," she says. "I felt that if I can get people talking about their workplace experiences using fictional stories, then it helps to raise awareness in a less hostile manner."
Meant to be an educational and behavioral assessment tool for employees – especially college students and interns – "HR" is designed to get employees talking about their experiences and thinking about how they would handle the situations found in the stories.
"In today's society, there are a lot of unwritten rules, unethical practices, and even bullying in the workplace," Bella says. "One of the many ways to address these issues is to tell a story. Stories are less invasive and thought-provoking."
Her hope is that readers will choose to rely on their "ability to be rational, calm, inquisitive, think positively, and raise awareness in the workplace. The readers should be able to learn from the stories and be prepared if the same situations or scenarios happen to them. Knowledge is power."
"HR"
By Sarah Jo Bella
Softcover | 6 x 9 in | 238 pages | ISBN 9781483447438
E-book | 238 pages | ISBN 9781483447445
Available at Amazon and Barnes & Noble
About the Author
Sarah Jo Bella is an information technology professional and has been in this industry since the early 1980s. She is an excellent listener and has spent countless hours listening to her co-workers as they share their experiences with upper management and the workplace. She writes fictional stories that are loosely based on the truth. She is often known as "the voice of the employees." This is her first book. More information can be found at: voiceofemployees.com.
Lulu empowers people of all ages to explore and express their interests, passions and expertise through books, photography and art. Since introducing self-publishing in 2002, Lulu has empowered creators in more than 225 countries and territories to produce nearly two million publications. Lulu Jr. allows children to become published authors, encouraging creativity, strengthening literacy and building self-esteem. Picture.com offers professional photography of collegiate and professional sports, memorable and historic events, fine art and home décor. For more information, please visit lulu.com.