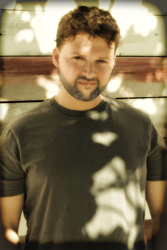 All the thanks in the world to all my fans who have supported me since my first song debut. I am truly humbled!
Chicago, IL (PRWEB) April 08, 2014
Sarantos 4th Music Video Release "I Love To Love You Too" is a classic YouTube dance video.
Sarantos attends to his fans' wishes releasing the anticipated 4th music video "I Love To Love You Too" on April 8th, 2014 worldwide. This music video astonishes fans, highlighting a dance/pop style to Sarantos music. Sarantos has accepted the invite and will be performing live with his band at the Canadian's Music Week in Toronto in May.
The Facebook event has already seen 112 people sign up from all over the world to come to the Toronto Music festival on opening night to see Sarantos live on stage at his 1st venue with his new band.
"I am thrilled to be given the honor of performing at Toronto's music week this year along with my band," says Sarantos. "I am happy to have come this far with my music and all the thanks in the world to all my fans who have supported me since my first song debut. I am truly humbled!"
With over 110K Facebook likes in the last 6 days, supporters are definitely expressing positive reviews for Sarantos latest song "I Love To Love You Too" as he prepare for his performance at the Canadian's Music Week in Toronto. The music video has now arrived on Youtube.
Internationally, the buzz has continued to spread and Sarantos music has received over 500K radio airplays. His fan list continues to grow exponentially.
Sarantos has a strong motivation with his musical passion to raise money for charity. 33% of any music-related sales profits are going straight to charity. For "I Love To Love You Too", Sarantos has chosen the American Heart Association.
"This is a really cool dance song about a man who wants to prove his love by getting out on the dance floor and showing off his stuff," says Sarantos "He is shy though. He is a man, which means he doesn't really dance. But he will for his girl because he just loves to love her too!"
The social media realm has continued to embrace this rising star. In addition to the attention of over 420K fans on Facebook and 1M Twitter followers, Sarantos has now done many radio interviews throughout the world. All this commotion started when his 1st song "Not Where I Wanna Be" was released worldwide on January 2nd, 2014.
Sarantos strives to inspire people with his songs and lyrics. Music is always on his mind and Sarantos has written over 2,000 songs. Sarantos' music has received rave reviews so far from industry insiders, and he relishes this chance to pursue his lifelong dream.
Sarantos' unique sound has been best described by industry insiders as "An emotionally powerful vocal style masterfully united with music that is a fusion of classic 80s rock blended with modern soft rock and pop music!"
A new song will be released the 1st Tuesday of every month to tease his fans. Then a new music video on the 2nd Tuesday of every month, a new Funny video of the month on the 3rd Tuesday of every month and a new Whiteboard video on the 4th Tuesday of every month. This will go on for the entire year. The CD will then be released on November 18th 2014.
Sarantos has always been inclined to help people in need and is proud to launch this CD as a way to donate a significant portion of proceeds to charity, hopefully inspiring other artists to do the same. The 11 charities chosen for each album song include American Lung Association, Make-a-wish Foundation, American Heart Association, St Jude's, Hellenic Academy, ASERF, American Red Cross, Children's Hospital of Chicago, Chicago Medical School, Thanioton Society & the Cystic Fibrosis Foundation.
The website, Melogia (which in Greek means "with words") was established by Sarantos, an aspiring singer and song writer.
Website
http://www.melogia.com
Sarantos Facebook artist page:
https://www.facebook.com/Sarantosmelogia
Sarantos Twitter:
http://www.twitter.com/sarantosmelogia
Sarantos iTunes:
https://itunes.apple.com/us/artist/sarantos/id784136489?ign-mpt=uo%3D4