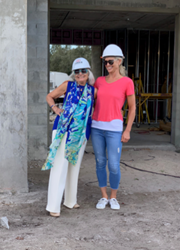 "Meg's art will help inspire feelings of hope & healing throughout the campus," says McGillicuddy.
SARASOTA, Fla. (PRWEB) December 06, 2018
Meg Krakowiak, award-winning Sarasota artist, will donate a custom painting to the All Star Children's Foundation Campus of Hope & Healing.
Known for "Art that Brings Happiness into Homes," Krakowiak will collaborate with Board Chair Graci McGillicuddy to create a custom painting for the new children's facility.
The piece will be designed to enhance the campus' inspirational, calm and happy environment. "It gives me great joy to brighten a home and a child's life through my artwork," says Krakowiak.
The All Star Children's Foundation Campus is a 5 acre state-of-the-art campus dedicated to providing children who are victims of abuse and have experienced trauma with individualized, comprehensive, evidence based and trauma informed care.
Six single family independently-licensed foster homes will be built in addition to a club house and 12,000 sq. ft. clinical treatment center which will serve 250 outpatient foster children as well as provide training and support for foster parents. The "Campus of Hope and Healing" will include art therapy, a computer lab, children's boutique, outdoor movie theatre, a playground and a garden.
In collaboration with Johns Hopkins All Children's Hospital, All Star will use the latest in brain science research to help provide healing to these children.
"It has been my lifelong dream to create a nurturing, loving place for children," says McGillicuddy. "Meg's art will help inspire feelings of hope & healing throughout the campus."
Happiness Through Art
A Siesta Key resident influenced by tropical seascapes, Krakowiak opened a working studio/gallery on historic Palm Avenue.
According to art collector Dr. Philip Zager, "Meg's richly textured paintings add to my enjoyment of living in my house."
In addition to her career as an accomplished artist, Krakowiak is a former special needs high school teacher as well as a volunteer with Big Sisters of America. Once her painting is hung in the facility, she will continue to share her heart and know-how as a facilitator in All Star's art therapy program. "I want to help the children experience joy through interactive painting sessions," she says.
About Meg Krakowiak Gallery
Meg's specialty is original contemporary acrylic paintings - rich in color and texture. Clients include former Exxon executives and large-scale commissioned work for interior designers, homeowners and builders. The Meg Krakowiak working gallery is located at 60 South Palm Avenue in Sarasota. Find more information at megkrakowiakstudios.com or call (941) 400-2478.