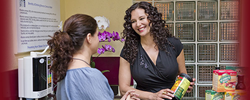 Prevent Cardiovascular Disease With EECP & The Sara Soulati Health For Life Program™
Los Angeles CA (PRWEB) February 02, 2015
Sara Soulati, CEO of Global Cardio Care, Inc. and creator of a vegan lifestyle program to prevent and fight cardiovascular disease with Enhanced External Counterpulsation (EECP) therapy, today announced positive results of the efficacy of her program for a Honduran woman suffering from serious effects of coronary artery disease, obesity, angina pectoris, and stage four renal disease.
The 74-year-old woman from Honduras came to the physician practice of Ronald S. Weaver, MD, Inc. seeking EECP treatment to help reverse risk of mortality from kidney failure coupled with serious cardiovascular disease.
Her symptoms included an average systolic blood pressure of 269 (normal range is 120), weight of 251 pounds, was taking more than 12 pharmaceuticals; had severe chronic chest pain, edema (swelling) throughout the body, and her kidneys were near failure. A YouTube video of the patient's story is accessible here.
After one month of treatment including daily EECP therapy and instant feedback and coaching from the Sara Soulati Health For Life Program about vegan nutrition and exercise, the patient was removed as a candidate for dialysis by her nephrologist; lost 51 pounds; eliminated eight medications and an inhaler; normalized her blood pressure; and seriously reduced daily chest pain.
"Every day, we see results like this for the people who enroll in my program and EECP, " said Sara Soulati, CEO of Global Cardio Care in Los Angeles. "What is so remarkable are the results we see in our patients after one full course of EECP with adoption of my lifestyle program. Our doctors deliver powerful treatment, and we're saving lives every day."
The Sara Soulati Health For Life Program is a vegan lifestyle modification program combined with EECP therapy for patients under the care of medical professionals at the physician practice of Ronald S. Weaver, MD and Global Cardio Care Centers.
About Global Cardio Care
Global Cardio Care, Inc. manages two physician practices in Los Angeles that deliver EECP treatment combined with the Sara Soulati Health For Life Program. The company was launched in 2002, and the physician practice it manages is the largest independent EECP treatment center in the U.S. Follow Global Cardio Care on Facebook, Twitter, YouTube, and Google+.