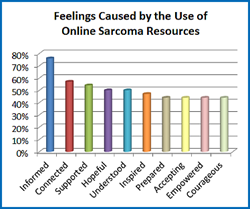 What patients learn online helps them deal with sarcoma better, helps them ask informed questions and helps them feel less alone. The web works.
New York, New York (PRWEB) November 01, 2013
The Liddy Shriver Sarcoma Initiative has published a groundbreaking report on the role of the Internet in the lives of people dealing sarcomas, a diverse set of rare cancers. Bruce Shriver, PhD presented the report on Thursday morning at the 18th Annual Meeting of the Connective Tissue Oncology Society in New York City. Based on the survey responses of 668 people in 30 countries, the report highlights the risks and benefits of using the Internet to learn about these dangerous diseases.
Sarcomas are cancers that affect thousands of people of all ages around the world. Because they are rare, it can be difficult for patients and caregivers to find specialists, accurate medical information, local support groups and other people dealing with the same cancer in their local communities.
The report shows that only 1 in 4 people surveyed had been told about online resources by a doctor. Still, those people searched for information online, and they reported an overwhelmingly positive experience. A full 93% indicated that online information and connections have helped them deal with sarcoma. About 88% reported that the Internet has had a positive effect on their disease knowledge, and a strong majority (74%) also indicated that what they've learned online has improved the way that they communicate with and understand their medical teams.
One angiosarcoma survivor wrote about the importance of online resources: "Information is critical to dealing with sarcoma. Doctors tend to have limited time and attention. What patients learn online helps them deal with sarcoma better, helps them ask informed questions and helps them feel less alone. The web works."
Mary Sorens, designer of the survey, was not surprised by what she read as she analyzed responses: "I have been involved in Internet discussions about sarcomas for years. I've seen hundreds of people come online because of a new diagnosis, and most are terrified. With time, even just a few hours of interaction with other people online, they feel better. It's as if they are starting to process something that they thought was impossible to understand and accept."
Despite the positive tone in most survey answers, 3 out of 4 participants dealt with difficult emotions because of their online activities. Fear, anxiety and sadness are common reactions as people read scary statistics and come to care about others who later have setbacks and lose their lives. A liposarcoma survivor wrote, "If I was not able to connect with so many patients, I would be protected from knowing the reality of my mortality."
About 2% of those surveyed reported that searching for sarcoma information online was a harmful experience for them. They wrote about finding inaccurate, unhelpful, outdated and frightening information. Ultimately, this group of survey participants did not find what they needed online and did not feel supported. The report recommends that doctors and nurses offer patients an opportunity to talk about any information they have found that has made an impact on them, whether positive or negative.
Sorens added, "There are definitely people who fall between the cracks of online support networks and don't feel helped by what they find online. But typically, the longer a person is active within the online sarcoma community, the more assistance and support they receive. Even so, the longer a person stays involved, the more treatment successes and failures they witness. There is no way to benefit from the hope and support online without being touched by fear and grief, and our survey participants made that pretty clear. Still, online information and support help most people cope; and ultimately, we hope that scientific research will reduce the online community's grief by making it possible for more people to live and thrive."
ABOUT THE LIDDY SHRIVER SARCOMA INITIATIVE
The Liddy Shriver Sarcoma Initiative was formed in November 2003 as a part of Liddy Shriver's vision of increasing sarcoma awareness and supporting sarcoma research. Even as Liddy underwent aggressive treatments, she and her family planned bicycle tours to raise money for research. Though Liddy died at the age of 37 in 2004, her parents have been tireless volunteers for the cause ever since.
LIDDY'S ONLINE EXPERIENCE
Before today's popular social networking and blogging sites existed, Liddy Shriver benefited from keeping an online journal about her condition. She scoured the Internet for information about sarcoma, its treatment, and clinical trials that might help her. And she found solace in sharing sorrows and joys with other patients online. A decade later, people continue to do just what Liddy did. Many even come across her journal and express their thanks.
THE INITIATIVE'S TENTH ANNIVERSARY
This report was released as the Liddy Shriver Sarcoma Initiative celebrates its tenth anniversary. Supportive comments about the milestone have poured in from around the world.
Some of the comments discuss the Initiative's efforts to educate and support. Dr. Ian Judson from the United Kingdom writes, "Over the 10 years of its existence, I have consistently referred my patients to the Liddy Shriver Sarcoma Initiative's website for authoritative, peer-reviewed information and advice. The feedback is always positive. Patients find the information is presented in an accessible way, and it helps them to feel less alone knowing that other people have their disease and are facing the same problems."
Some comments show the power of the personal connections fostered by the Initiative. Dr. Ricardo Cubedo in Spain writes, "Bruce encouraged and invited [patient and advocate] Francisco Javier, along with his wife and children, to join a Team Sarcoma Cycling Tour in New York. We scheduled our own Sarcoma Awareness Day at our hospital in Spain so that a Skype connection was possible. I will never forget Francisco Javier exultantly smiling from the huge screen to dozens of patients gathering at the hospital's assembly room. Under a blazing blue sky, surrounded by bikes, children and barking dogs, he and Bruce addressed us all, providing the living evidence of the power of patients' association. The Liddy Shriver Sarcoma Initiative really makes a difference, making a better world for those touched by sarcoma."
Finally, many of the comments mention the Initiative's role in advocacy and research. Dr. Elizabeth Lawlor in Michigan writes, "The Initiative has for 10 years served as cornerstone for sarcoma advocacy and scientific advances. Their direct support of my team and our research efforts is helping to ensure that sarcoma patients in the future will have better outcomes than patients in the past."
In this month's ESUN editorial, Initiative co-founder Bruce Shriver expressed gratitude to everyone who has helped to advance the Initiative for a decade. He writes, "We are indebted to all of these people for their involvement, commitment, help and generosity. Reaffirming our mantra, 'Sarcoma Knows No Borders,' assistance has come from people all over the world who believe in our cause and the quality of our work and who share our passion. We deeply appreciate everyone who has been part of our 10-year journey. We give you our sincere thanks."