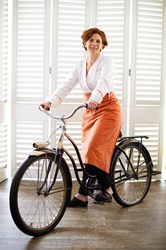 We'll discover the archaeological site of Barumini, explore Montiferru pastures and olive oil groves, and pedal along the twisting coastal road of south Sardinia and its beaches.
Boston, MA (PRWEB) December 30, 2013
Sardinia is often described as "almost a continent", due to its geographic diversity and rich history dating back 5,000 years. Very few places are as magnificently unspoiled and undiscovered as this vast island, the second largest in the Mediterranean. With Chef Jody Adams, a James Beard Award winner and the creative visionary behind two of Massachusetts' most loved restaurants: Rialto and TRADE as a host, Ciclismo Classico guests will spend seven days this coming summer experiencing Sardinia's matchless regional cuisine and wines, while biking 300+ km across the gorgeous island. For more information on this Sardinia culinary tour, call 1.800.866.7314 or visit http://www.ciclismoclassico.com/trips/jody-adams-bike-tour-sardinia/.
"Food is sacred in Sardinia and the link that connects the locals to the land," said Ciclismo Classico founder Lauren Hefferon. "Chef Adams will help guests discover this connection and delight their palates with handmade pastas, Seada cake, Montiferru, local cheeses, cured meats and regional wines."
The tour begins in Tresnuraghes and then across the very center of the island through areas still untouched by tourism. From here, riders will discover the stunning coast in Cabras with its lagoons and flamingos, and explore the long sandy beaches of the Sinis peninsula. Visits to old mining towns, the ancient Phoenician and Roman cities of Tharros and Nora, and the winding coastal road to Pula highlight this epic cycling tour.
"We'll discover the archaeological site of Barumini, explore Montiferru pastures and olive oil groves, and pedal along the twisting coastal road of south Sardinia and its beaches," said Hefferon.
The Sardinia culinary tour includes several informal cooking demonstrations with Chef Adams where guests can participate in the action and learn a few tips from the master chef herself. A cheese-making demonstration with real local shepherds, and a special dinner prepared by Adams at Villa Asfodeli also highlight this culinary adventure.
Known as much for her warmth and unshakeable work ethic as for her culinary skills, Adams has chartered an illustrious and adventurous career that has seen her competing on BRAVO's Top Chef Masters and raising millions of dollars for causes dear to her heart: most notably Partners in Health, Share Our Strength, and The Greater Boston Food Bank. She has biked in the 192-mile Pan Mass Challenge the past three years raising more than $250,000 with her Team Rialto-TRADE for The Dana-Farber Cancer Institute.
For more information, visit http://www.ciclismoclassico.com.
About Ciclismo Classico:
Join a Ciclismo Classico tour and you'll soon find yourself "Pedaling your Passion," a uniquely "Italian" approach to bicycle travel that embraces La Dolce Vita at every turn and invites you to find your very special passion on every tour. Whether it's soaking in the scenery, learning to make pasta, taking hundreds of photos or learning about Renaissance architecture, you'll re-connect with your own passion with our special native guides who connect you to the culture and landscape like no one else can. At each culture stop, restaurant and lodging owners greet you like family and lavish you with magnificent food and wine. You're immersed in the local culture and always with friends. Ciclismo Classico transforms a European cycling trip into an eye-opening, life-altering adventure you'll never forget. Come ignite Your Passion and pedal with us!