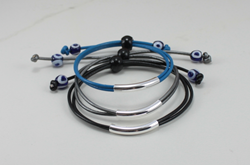 The Unisex Wrap Leather Bracelet is an everyday favorite.
Boston, MA (PRWEB) August 12, 2014
Boston-based SariBlue® (http://www.SariBlue.com) will participate in GBK's 2014 Primetime Emmys Celebrity Gift Lounge, in association with The Artisan Group®, where select bracelets from its Leather Collection will be on display and gifted to celebrities stopping by The Artisan Group exhibit. The by-invitation-only Gift Lounge takes place August 22-23 at an exclusive location in Beverly Hills, California.*
SariBlue creates earthy, bohemian, wear-it-every-day jewelry centered on the power and theory of the Evil Eye. The company's beautiful, simply designed adornments are intended to add peace, positivity and a bit of fun to the sometimes perplexing task of accessorizing.
For the GBK Gift Lounge, SariBlue's display piece will serve to introduce celebrities and media to its fashion forward leather bracelet collection for women and men. On view will be eight of the company's most popular leather designs, including a Gunmetal Leather and Antiqued Silver Half Cuff Bracelet, a vibrant T-Clasp Fashion Bracelet and the recently introduced Men's Riveted Double Color Bracelet, which features a masculine mix of tobacco brown and black leather and a wide magnetic clasp with accent rivets in each corner.
Celebrities will find nestled inside The Artisan Group's sought after black swag bag, SariBlue's Unisex Wrap Leather-Silver Tube and Evil Eye Bracelet. The bracelet, which retails for $20.00 at sariblue.com, has SariBlue's signature Evil Eye bead and is available in a choice of Black, Gunmetal or Sky American leather.
Says SariBlue designer/founder Christine Lorenzo, "This wrap style bracelet is one of my favorite daytime pieces; I find myself reaching for it often. I love the way the silver tube catches the light and the dangling leather tails add a cool, Boho touch." She notes that the bracelet is size adjustable, making it a great choice for gifting.
SariBlue® is a featured designer on Storenvy, an online marketplace dedicated to discovering inspired goods from authentic brands based in California. Lorenzo says of this relationship, "Storenvy is a great match for SariBlue®'s online goals; we love the mom and pop feel of this online marketplace and appreciate the dedicated resources behind the marketplace."
SariBlue jewelry has been included in pre-award show swag bags for the Oscars, the Golden Globes, the Primetime Emmys, the American Music Awards New York Fashion Week and the Cannes Film Festival. SariBlue was a Featured Artisan at the 46th Annual CMA Awards and has received mentions in the Hollywood Daily Star, Glamour, Marie Claire and InStyle UK. During her pregnancy, actress Megan Fox was spotted wearing SariBlue's popular Baby Belly Bell® Angel Caller Maternity Necklace. SariBlue is the only U.S.-based company that uses genuine, handmade Turkish evil eye beads in its designs.
To learn more about SariBlue, contact Christine Lorenzo by email using the Contact Author button on the right. Become a fan on Facebook, Twitter, Pinterest and Instagram (@SariBlue). Shop SariBlue at SariBlue.com.
For press inquiries regarding The Artisan Group, visit theartisangroup.org.
*This event is not affiliated with the Primetime Emmy show; SariBlue® is not in any way affiliated with the Academy of Television Arts & Sciences.
ABOUT SARIBLUE®
SariBlue® (http://www.sariblue.com) is an earthy, bohemian, wear-it-every-day jewelry collection centered on the power and theory of the universally recognizable symbol, the Evil Eye. SariBlue is especially known for its Angel Caller maternity necklaces. With a focus on glass beads handcrafted using ancient, eco-friendly methods, the SariBlue collections tie together past and present in a distinctive way, providing protection to the wearer through the talisman.