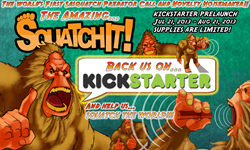 Like the main character from the hit television show, The X-Files, FBI special agent Fox Mulder wanted to believe in certain phenomena, which most mainstream people instantly dismiss and consider folklore. Like Mulder, WE WANT TO BELIEVE
Dallas, TX (PRWEB) July 22, 2013
SquatchIt announces the launch of their SquatchIt Kickstarter campaign to raise funds to produce the SquatchIt Sasquatch call and Bigfoot novelty noisemaker. The Bigfoot call Kickstartrer campaign began on Sunday July 21, 2013 and will last until Wednesday August 21, 2013 at 7:00 PM CST. SquatchIt invites supporters to back the SquatchIt project and receive rewards ranging from thank you videos and SquatchIt Bigfoot caller devices as well as limited edition SquatchIt art prints and custom and personalized t-shirts.
When asked about belief in Sasquatch the inventors commented, "Like the main character from the hit television show, The X-Files, FBI special agent Fox Mulder wanted to believe in certain phenomena, which most mainstream people instantly dismiss and consider folklore. Like Mulder, WE WANT TO BELIEVE, because a world filled with possibilities, such as the possible existence of Sasquatch, makes our world a much more mysterious and magical place to exist in! We do however admit that the indisputable fact is that nobody has yet proven that Sasquatch does exist. On the other hand, it's also a fact that nobody has proven that Sasquatch doesn't exist!".
SquatchIt is the world's first Sasquatch and Bigfoot wild game call and novelty noisemaker. Designed to "Sound like a Squatch" and based on the general consensus of what many researchers believe a Sasquatch call would sound like, SquatchIt takes the idea of a battery-free novelty noisemaker to a whole new level. For more information about the Sasquatch sound device or information regarding the upcoming Kickstarter launch, visit squatchit.com.