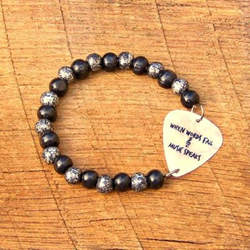 Music is something that everyone loves... It can stir up a range of emotions and is often appropriate in place of words.
Mine Hill, NJ (PRWEB) March 29, 2016
SassyBelleWares (http://www.sassybellewares.com) in association with The Artisan Group®, will participate in an exclusive celebrity gift lounge event hosted by GBK Productions, leading up to the MTV Movie Awards telecast. The Gift Lounge will take place on April 8-9, 2016 at an exclusive location in Los Angeles, California.
Founder/designer Stephanie Hovsepian's inspirational Guitar Pick Bracelets will be included in celebrity and select press swag bags, prepared by The Artisan Group. Celebrities will receive a handcrafted Guitar Pick Bracelet that has a white pick with a pearl finish and the words, "When Words Fail Music Speaks" and a treble clef printed on it. Members of the press will receive a similar bracelet with a blue pearl finish guitar pick and rainbow colored wood and Czech glass beads.
"Music is something that everyone loves, no matter their age. It can stir up a range of emotions and is often appropriate in place of words," said Stephanie. "These one size fits most bracelets are fashion forward and the perfect choice for music lovers."
At the Artisan Group exhibit, SassyBelleWares will have on display additional Guitar Pick Bracelets in leather, beads and chain, with hand-stamped sayings like, "Sing it Loud," and "Music Heals," along with its popular hand-stamped bead and spoon bracelets.
"I'm very excited to have my handcrafted jewelry at GBK's Gift Lounge for the MTV Movie Awards once again, and to have The Artisan Group representing me there," remarked Stephanie. "It's sure to be a fun and exciting weekend."
SassyBelleWares is popular with TV wardrobe stylists looking to accessorize their characters with on trend designs, and Stephanie's jewelry designs have been worn on TV shows including on "Finding Carter," "Bella and the Bulldogs," "Law & Order SVU," "Chasing Life," "Cedar Cove," "The Vampire Diaries," "Parenthood" and "Hart of Dixie." Stephanie's bracelets have also been seen on the arms of musicians, including Michael Hobby (A Thousand Horses), Brian Smith (Old Southern Moonshine Revival) and Billy Gibbons (ZZ Top).
SassyBelleWares included its jewelry in swag bags for GBK's Gift Lounge for the 2013 and 2015 Golden Globes and the 2014 and 2015 MTV Movie Awards, where its stack bracelets landed in the hands of cast members from shows including Awkward, Two Broke Girls, Justified and Nashville. It has helped raise money for The Joyful Child Foundation as part of a The Artisan Group charity initiative.
SassyBelleWares has been featured as one of Christine's Cool Picks on Atlanta and Company. In the past, the company has gifted its jewelry to Megan Fox, Snooki, Jennifer Nettles, Giuliana Rancic, Sarah Michelle Gellar, Selena Gomez and Stephanie Drapeau.
Stephanie says that despite being a New Jersey transplant she remains a southern belle at heart. "Southern Belles are seriously sassy and I've made it my mission to share and encourage this attitude through my jewelry designs. At SassyBelleWares, we are all about elevating the sass factor with unique, funky, whimsical and sassy handcrafted jewelry and accessories they won't find anywhere else."
To learn more about SassyBelleWares, contact Stephanie Hovsepian by email using the Contact button at the top right of this press release. Become a fan on Facebook (SassyBelleWaresonFB) and follow the company on Twitter (@SassyBelleWares), Pinterest (SassyBelleWares) and Instagram (sassybellewares).
Shop SassyBelleWares at SassyBelleWares.com and BourbonAndBoots.com.
For more information about The Artisan Group, visit theartisangroup.org.
*Neither SassyBelleWares nor The Artisan Group are officially affiliated with MTV or the MTV Movie Awards.
ABOUT SASSYBELLEWARES
SassyBelleWares (http://www.SassyBelleWares.com) is elevating the SASS FACTOR for women of all ages with jewelry and accessories that blend contemporary materials, semi-precious gemstones, and whimsical found elements. The result is original designs that express a variety of moods and work for all kinds of occasions.
ABOUT THE ARTISAN GROUP
The Artisan Group® (http://www.theartisangroup.org) is a premier entertainment marketing group dedicated to representing small business artisans at the best celebrity gift lounges and press events. The organization provides a collective sampling of handcrafted products to celebrities and members of the press at top luxury gift lounges such as those leading up to The Academy Awards, The Golden Globes, The MTV Movie Awards and The Primetime Emmys.
The Artisan Group also coordinates product placement of its member's handcrafted products on such hit television shows as The Voice, The Vampire Diaries, Days of Our Lives, The Young & The Restless, Modern Family, Jane The Virgin and Law & Order: SVU, among others. Membership in The Artisan Group is juried and by invitation only.