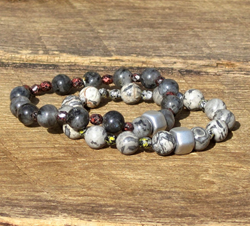 My Cosmic Duo Bracelets are out of this world, but totally wearable!
Mine Hill, New Jersey (PRWEB) January 07, 2015
SassyBelleWares (http://www.sassybellewares.com) is pleased to announce its Cosmic Duo Bracelet Set will be included in celebrity swag bags prepared by The Artisan Group® for GBK's 2015 Golden Globes Celebrity Gift Lounge. The by-invitation-only Gift Lounge takes place January 9-10, 2015 at an exclusive location in Hollywood, California.
"My Cosmic Duo Bracelets are out of this world but totally wearable," smiled Stephanie Hovsepian, designer and founder of SassyBelleWares. "They are fashion forward; one size fits most and each offers unique metaphysical properties and benefits. I hope the recipients enjoy wearing them as much as I enjoyed creating them."
One bracelet in the Duo pairs Larvakite with matte silver, black and red Czech glass Beads. Larvakite (also known as Black Moonstone) is an attractive grayish feldspar with blue and silver highlights. It is believed to offer the wearer protective and grounding powers. The other bracelet is an eye-catching combination of scenery jasper and matte silver, black and yellow Czech glass beads. Scenery jasper is a type of chalcedony, where organic materials and mineral oxides provide a distinctive banding. Jasper is said to be protective, stabilizing and healing.
2014 has been a year of growth for SassyBelleWares. Its jewelry has become a popular choice for TV wardrobe stylists looking to accessorize their characters with on trend designs. A Hammered Double Circle Bracelet was worn by actress Nina Dobrev (as Elena Gilbert) on Episode 601 of The Vampire Diaries. Bonnie Bedelia (as Camille Braverman) donned a Black Lava Rock Bracelet in episode 608 of Parenthood. In episode 322 of Hart of Dixie, Deborah Lacey (as Madame Van Horn) showed off a Sunflower Stretch Bracelet.
"I'm grateful to The Artisan Group for helping to facilitate these television placements; they have greatly increased visibility for my brand," remarked Stephanie.
SassyBelleWares also had its jewelry selected for inclusion in The Artisan Group swag bags at GBK's 2014 New York Fashion Week Gift Lounge. At GBK's 2014 MTV Movie Awards Gift Lounge, its Stack Bracelets landed in the hands of cast members from Awkward, Two Broke Girls, Justified and Nashville, among other shows.
Also in 2014, SassyBelleWares was featured as a one of Christine's Cool Picks on Atlanta and Company.
In the past, the company has gifted its jewelry to Megan Fox, Snooki, Jennifer Nettles, Giuliana Rancic, Sarah Michelle Gellar, Selena Gomez and Stephanie Drapeau. SassyBelleWares was included in swag bags for GBK's Gift Lounge for the 2013 Golden Globes. It has helped raise money for The Joyful Child Foundation as part of a The Artisan Group charity initiative.
Stephanie says that despite being a New Jersey transplant she remains a southern belle at heart. "Southern Belles are seriously sassy and I've made it my mission to share and encourage this attitude through my jewelry designs. At SassyBelleWares, we are all about elevating the sass factor with unique, funky, whimsical and sassy handcrafted jewelry and accessories they won't find anywhere else."
To learn more about SassyBelleWares, contact Stephanie Hovsepian by email using the Contact button at the top right of this press release. Become a fan on Facebook (SassyBelleWaresonFB) and follow the company on Twitter (@SassyBelleWares) and Instagram (sassybellewares). Shop SassyBelleWares at SassyBelleWares.com, BourbonAndBoots.com and CountryOutfitters.com.
For more information about The Artisan Group, visit theartisangroup.org.
ABOUT SASSYBELLEWARES
SassyBelleWares (http://www.SassyBelleWares.com) is elevating the SASS FACTOR for women of all ages with jewelry and accessories that blend contemporary materials, semi-precious gemstones, and whimsical found elements. The result is original designs that express a variety of moods and work for all kinds of occasions.