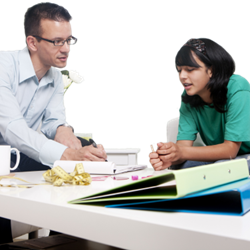 Most people ask the wrong question when trying to determine whether they should take the SAT or the ACT.
Irvine, CA (PRWEB) May 01, 2014
On which test will a student score better – the SAT or the ACT? This is the first question to answer when preparing for college admission exams. The tests are viewed equally in the eyes of college admissions officers, so what matters most is maximizing percentile ranking. Tremendous advantage could be gained if there were a reliable way to predict whether a student will rank higher on the SAT or the ACT.
Powerful Prep is an elite SAT/ACT test prep academy based in Irvine, CA, that employs only tutors who are Ivy League alumni with 99.9% SAT/ACT scores themselves. Having seen many of their students over the years agonizing over which test to take, they set out to determine reliable guidelines. After analyzing multitudes of test data, they published a white paper with a surprisingly clear answer.
"I believe most people ask the wrong question when trying to determine which test to take," said Matthew Larriva, Founder of Powerful Prep. "It's not 'Which test is easier?' The SAT and ACT scores are standardized, so it doesn't matter if one test is easier than the other."
"The question that matters," continued Mr. Larriva, "is 'Which test rewards specific types of preparation?' Some students can invest substantial time in SAT/ACT test prep. Others have very little time to prepare. We found, a bit unexpectedly, a statistically clear and logically compelling result. Depending on the amount of prep time you have available, and a few lesser factors, there is a clear answer as to which test you should take."
The data and conclusions can be seen in Powerful Prep's white paper: "A Quantitative Analysis on the Differences Between the SAT and the ACT: Evaluating the Disparities in Yield Curves". The white paper is freely available for download.
"This paper presents a substantive analysis of the quantitative disparities between the SAT and ACT, tests which are widely viewed as equal," said Peggy Anderson, Ph.D., Professor of Special Education at Metropolitan State University of Denver. "Students who are preparing for competitive admission to highly selective schools would do well to heed the findings and implications of this significant report."
But what about the new SAT test announced a few months ago? "The new SAT test won't be implemented for several years," clarified Mr. Larriva. "Therefore, the findings of this white paper still apply to students graduating from high school in 2014, 2015 and 2016."
Download the white paper to determine whether your student should take the SAT or the ACT.
About Powerful Prep
Powerful Prep is Orange County's premium SAT Prep and ACT Prep results-oriented program and has been featured on CBS and KCAL 9. All instructors are Ivy League graduates and 99.9%-scorers on the SAT and/or ACT. They offer the convenience of in-home tutoring and the engagement of one-on-one sessions.
Powerful Prep is one of only a handful of prep companies in the country that publishes its results. They believe that test prep shouldn't be a gamble: Parents and students should know an academy's track record.