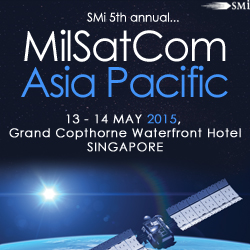 (PRWEB UK) 28 April 2015
SMi are delighted to announce that Nicole Robinson, Corporate Vice President of SES Government has joined this year's MilSatCom Asia Pacific conference. Nicole will join the esteemed panel of speakers and will present on: Commercial SATCOM - Critical Communications Infrastructure in the Asia Pacific: Opportunities and Risks. Her presentation will focus on:

Commercial SATCOM is critical communications infrastructure for civilian and defense agencies around the world
International collaboration toward access to future space capabilities
Insufficient capability in the Asia Pacific arch as compared to other regions in the world – opportunities and risks associated with "business as usual"
What can be done? How can we best leverage commercial SATCOM providers in the future to meet our defense, security and institutional needs
Komei Isozaki, Director, Space Policy Office from the Ministry of Defence, Japan has also joined the conference agenda and will provide the opening keynote address on day one, presenting on Japanese Space Policy.
Click here for more information and further details
This conference will enable attendees to join senior military officials, high-level government representatives and industry experts, providing the chance to hear from 17 leading presentations covering the latest developments and challenges within military satellite communications with international speakers from: Japan, Singapore, New Zealand, Philippines, USA, Vietnam and many more.
Confirmed attendees for the 5th annual MilSatCom Asia-Pacific conference include:
Airbus Defence & Space, Defence Science and Technology Agency Singapore (DSTA), Defence Technology Cooperation Attache, Diplomatic Academy of Vietnam, Eurasian Technology Holdings, Eutelsat, Geospatial Information Agency BIG, Global VSAT Forum, Hughes Network Systems, Indonesia Department of Defense, Indonesia Maritime Studies, Information Technology Center Philippines, Institute of Technology Bandung, Intelsat General, Maritime Forces Pacific Headquarters, MINDEF Singapore, Naval Research Lab, New Zealand Defence Force, O3b Networks, Philippines Navy, ProSol via USMC, SES, Singapore Telecommunications (Singtel), ST Electronics (Satcoms & Sensor Systems), Thales Solution Asia, The Aerospace Corporation USA, Turkish General Staff, US Embassy in Singapore and many more.
The 2015 expert speaker line-up features:
Komei Isozaki, Director, Space Policy Office, Ministry of Defence, Japan
Lieutenant Commander Bill Blick, Joint Commander Engineer, New Zealand Defence Force
Commander Marcos Imperio, Assistant Chief of Fleet Staff for Weapons Communications Electronics and Information Systems, Philippines Navy
Jen Pearce, PACOM Analyst, ProSol via USMC
Senior Speaker Representative, Airbus Defence and Space
James Boutiller, Special Advisor, International Engagement, Maritime Forces Pacific HQ
Lee Foh Cheong, Chief Engineer, Director Engineering & Customer Solution, SingTel
Matthew Child, SVP Government Services, Eutelsat
D D'Ambrosio, EVP, Government Services, O3b Networks
Nguyen Than Yen Huong, Vice President, Diplomatic Academy of Vietnam
For more information or to register please visit: http://www.milsatcomasia.com/prweb, alternatively contact James Hitchen on: +44 (0) 20 7827 6054 or email jhitchen(at)smi-online(dot)co(dot)uk
MilSatCom Asia-Pacific is sponsored by: Airbus Defence and Space, Eutelsat, 03b Networks, SES and Singapore Telecommunications
------------------------- END --------------------------
About SMi Group:
Established since 1993, the SMi Group is a global event-production company that specializes in Business-to-Business Conferences, Workshops, Masterclasses and online Communities. We create and deliver events in the Defence, Security, Energy, Utilities, Finance and Pharmaceutical industries. We pride ourselves on having access to the worlds most forward thinking opinion leaders and visionaries, allowing us to bring our communities together to Learn, Engage, Share and Network. More information can be found at http://www.smi-online.co.uk