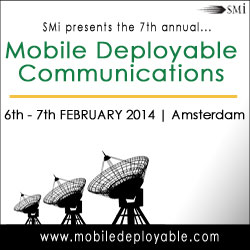 London, UK (PRWEB UK) 17 December 2013
Mobile Deployable Communications 2014 returns for the 7th annual event to bring together key military officials and industry experts from the US Army, DE&S, Austrian MoD, Italian Army, EU Military Staff plus many more to discuss the latest developments and challenges facing the mobile deployable communications industry.
Key topics to be addressed include a recent update on UK Land Environment Tactical CIS, working towards a global mobile communications system, network centric warfare and examine case studies such as the withdrawal from Afghanistan.
Click here to book a place or for more information.
Speaker presentation highlights include:
Michael McCarthy, Director of Operations and Program Manager, US Army
Breaking the Paradigms: The US Army Mobility Project

CSDA is changing how soldiers access knowledge, training, data across the Training, Admin and Operational Domains
The Army continues to lead the efforts to bring mobile computing technologies to the soldier at the leading edge of the battlefield.
The Army continues to share Insights and Lessons Learned from the CSDA project across DoD and Agencies and Departments of the Government
Senior representative, BOWMAN and tactical Communication & Information Systems, DE&S
The future of UK Land Environment Tactical CIS
The Current state of the UK Tactical CIS in the Land Environment
The short term future of the current solution
The future challenge facing the UKs tactical CIS
The possible future solutions to meeting the demand
Resilient Voice Services for the Tactical Internet
Robin Edgar Hansen, Team Leader SW design, RUAG
What is the Tactical Internet and why services need to be resilient and de-centralized
What challenges is a VoIP telephony solution faced with in such environments
Why existing enterprise VoIP solutions are not designed for the Tactical Internet
How RUAG Tactical Telephony TTEL solves the challenges
Click here to download the conference brochure and view the full speaker line-up.
If you would like to register, please visit http://www.mobiledeployable.com.
Alternatively contact James Hitchen on +44(0) 207 827 6054 or email jhitchen (at) smi-online (dot) co (dot) uk to get more information about the event.
-ENDS-
About SMi Group
The SMi Group is a highly professional, independent and global event-production company that specializes in Business-to-Business Conferences, Workshops and Masterclasses, and online Communities. The SMi Group creates and delivers events in the Defence, Security, Energy, Utilities, Finance and Pharmaceutical industries. For more information, please visit http://www.smi-online.co.uk.