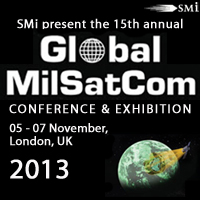 London (PRWEB UK) 28 October 2013
Momentum is fast building for what is expected to be the event's largest gathering of senior military representatives and leading SatCom solutions providers and operators from across the world.
Global MIlSatCom 2013 returns to London for the 15th annual event and is the leading military communications event for satellite professionals. Limited places remain so those interested are advised to visit http://www.globalmilsatcom.com to secure their place today.
The 2013 event will feature over 35 thought-provoking presentations, 7 keynote addresses, a line-up of high ranking military, government and industry speakers, a pre-conference workshop hosted by Cobham, an interactive panel discussion led by the European Defence Agency and the chance to network with up to 400 leading industry professionals at the heart of the military satellite community.
Delegates are now registered to attend from nearly 30 countries across the globe. Confirmed attendees include: US Air Force, Astrium, Boeing, Belgian Defense, MoD Brazil, MoD France, MoD Italy, DSTL, Eutelsat, Japan Manned Space Systems Corporation, Inmarsat, Lockheed Martin Corporation, German Centre for Satellite-Communications, SES, NATO, Raytheon, Thales Alenia Space, US Army, Turkish Navy, Qatari Armed Forces, plus many more. Click here to book today.
The high level conference programme will be delivered by some of the industry's most senior professionals from within the SatCom community. The keynote addresses will feature Ministry of Defence France, Joint Forces Command, Canadian Department of Defence, Brazilian Air Force, MOD Ukraine, MilSatCom Systems Directorate and UK Space Agency. Expert speaker presentations include New Zealand MoD, Royal Australian Navy Department of Defence, Philippine Navy, Nigeria MOD, plus many more. Please visit the website to download the conference brochure.
Attendees will also have the chance to attend a pre-conference workshop on Conquering Interference - The Next Big Satcom Challenge, in association with Cobham, Eutelsat and Global VSAT Forum, taking place on the 4th November 2013.
To register and for further information please visit http://www.globalmilsatcom.com
Alternatively contact Cem Tuna on: +44 (0) 20 7827 6736 or email ctuna(at)smi-online(dot)co(dot)uk.
---------ENDS-------