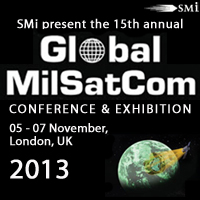 I look forward to the opportunity to share recent developments and lessons learned during the significant growth in the Australian Defence Forces SatCom capability, and to learn from the experience of other nations - Capt Rothwell, Australian Navy
London, United Kingdom (PRWEB UK) 16 October 2013
Now entering it's 15th year, SMi's Global MilSatCom conference and exhibition has grown year on year to be the leading military communications event for satellite professionals.
Here are 10 reasons why Global MilSatCom 2013 is set to become SMi's biggest SatCom event to date:
1. Global MilSatCom is the leading military communications event for satellite professionals and the best networking event of its kind in the world with delegations from Europe, Asia, America and Africa.
2. Attendees will hear from 7 industry-leading keynote speakers:
This year's event will feature the highest number of keynote speakers over the 3 day conference. Participants will hear about the latest SatCom developments discussed by: Ministry of Defence France, Joint Forces Command, Canadian Department of Defence, Brazilian Air Force, MOD Ukraine, MilSatCom Systems Directorate and UK Space Agency.
3. Confirmed delegates to attend Global MilSatCom 2013:
With the event close to selling out, here is a snapshot of the delegates registered for the event so far: Astrium, Boeing, Belgian Defense, DSTL, Eutelsat, Japan Manned Space Systems Corporation, Inmarsat, Lockheed Martin Corporation, German Centre for Satellite-Communications, SES, MoD Brazil, Mod France, Mod Italy, NATO, Raytheon, Thales Alenia Space, US Air Force, Turkish Navy, plus many more.
4. Over 30 exceptional presentations:
The 3 day conference will include a jam-packed conference agenda and will include exceptional speaker presentations from: DGA France, UK MoD, US Pacific Command HQ, Royal Australian Navy, New Zealand Defence Force, Philippine Navy plus many more. Click to see event brochure
5. The 2013 event is set to welcome 100 senior military figures from across the globe
6. Region focused conference programme
Attendees will have the chance to hear from a line-up of experts from across the world. The conference agenda will focus on different regions per day including: Day 1 will focus on EU including a special address from the Host Nation, Day 2 - The Americas and Day 3 - The Rest of the World
7. Pre-conference workshop:
Conquering Interference - The Next Big SatCom Challenge. In association with Cobham, Eutelsat and Global VSAT Forum, taking place on 4th November 2013.
8. Key topics to be addressed:
Challenges of budget cuts, Current and future developments, SatCom initiatives within emerging markets, US and Allied MilSatCom capability deployment, Managing the issue of interference within the SatCom industry.
9. A vibrant exhibition hall showcasing the latest SatCom technologies and advancements. Sponsors include SES, Astrium, Cobham, Eutelsat, Harris CapRock, Hughes, iDirect, Inmarsat, Intelsat General, Lockheed Martin, Newtec, Northrop Grumman, O3b Networks, Rockwell Collins, Thales Alenia Space, Thales, ViaSat Inc
Exhibitors: Advantech Wireless, AGI, Ansys, Comtech, CST, GATR Technologies, Gilat, Ibetor, Klas Telecom, Santander Teleport, Spectra, Ultra Electronics GigaSat, Vislink, Work Microwave
10. The ultimate networking opportunity
With over 350 of industry leaders attending from all over the world, delegates have a great opportunity to network during the conference and whilst attending the various networking events taking place over the week:
4th November - Pre-Conference Gala Dinner
5th November - Drinks Reception and Evening Dinner at the exclusive Chino Latino
6th November - Drinks Reception at the iconic London Transport Museum
For further details visit the conference website at http://www.globalmilsatcom.com
Global MilSatCom
5-7 November 2013
Park Plaza Riverbank Hotel | London, UK
Follow the event on Twitter #milsatcom