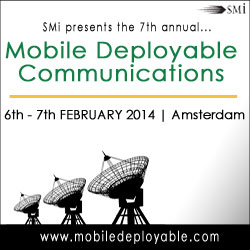 "Excellent organisation and relevance of presentations" NATO
London (PRWEB UK) 23 October 2013
The 7th annual Mobile Deployable Communications conference takes place next February in Amsterdam and will address key topics of CIS networks and tactical communications, C4ISR standardisation, interoperability across the global armed forces, operational experiences and future technologies.
Attendees will be able to discuss the issues faced by the industry, hear from the experts and keep up to date with the latest case studies and challenges at Mobile Deployable Communications 2014.
The early bird expires on the 31st October - To book a place and save £300 please click here.
Event highlights include:

Hear the UK MOD most recent update on UK Land Environment Tactical CIS
Join the discussion on EU militaries working towards a truly mobile communications system during an interactive panel discussion
Learn about the Italian view point on Network Centric Warfare
Listen to a focused energy supply presentation from the Ministry of Defence, Austria
Hear how the challenges of SOA - based communications in the tactical domain will effect ongoing operations from the Polish Institute of Military Communications Institute
Discuss the current withdrawal from Afghanistan
Expert speaker line-up includes:
Colonel Horst Treiblmaier, Chief of Communication, Ministry of Defence, Austria
Colonel (BG-A) Krasimir Yordanov, IT & Security Branch Chief, CIS Directorate, EUMS, European External Action Service
Lieutenant Colonel Nils Gaute Prestmo, CIS Task Group, Norwegian Armed Forces
Aurel SABO, Deputy Commander of Mobile CIS Base, HQ Mobile CIS Base, Mobile CIS Base of Slovak Armed Forces
WO2 (YofS) RM Stephen Scott MBE, COMUKAMPHIBFOR Yeoman of Signals, J6, Royal Marines
Dr Kamran Arshad, Senior Lecturer in Communications, University of Greenwich
Karl Thurnhofer, Director Communication Section, Federal Ministry of Defence and Sports, Republic of Austria
Click here to download the conference brochure.
In addition there will be a half day interactive conference workshop on the 5th February. The workshop will focus on 'Mobility & Deployability for Emergency & Post-Disaster Recovery Communications' and will be hosted by: Martin Jarrold, Chief, International Programme Development at Global VSAT Forum.
If you would like to register please visit http://www.mobiledeployable.com.
Alternatively contact the team on +44(0) 207 827 6054 to get more information about the event.