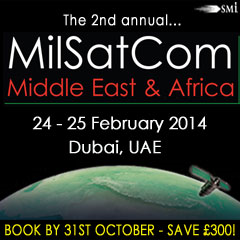 London (PRWEB UK) 28 January 2014
SMi Group, a world-leading events company, returns to Dubai to host the 2nd annual MilSatCom Middle East & Africa event. This event builds on the success of the company's industry-leading Global MilSatCom series which has been running for the past 15 years in London.
Dale Butler, Managing Director, SMi Group, commented: "Our MilSatCom Middle East & Africa show is the leading event in the region, with representatives from the UAE, Qatar, Saudi Arabia, Oman, Kuwait, Egypt, Nigeria and Tanzania promising to make this year's show the best to date."
The two-day event will gather leading industry experts, senior military figures, SatCom solution providers and government representatives involved in: satellite communications, emerging markets, strategy, technological developments, capabilities and MilSatCom operations.
MilSatCom Middle East & Africa 2014 will provide a platform for key figureheads in the marketplace to meet and discuss the latest developments and strategies that will shape the future of the military satellite communications market within this region.
The 2014 speaker line-up includes leading experts from:

Brigadier Syed Zulfiquar Ali, Commander, Strategic Command of Pakistan
Lieutenant Colonel Ali Alshehhi, Manager Space Reconnaissance Centre, UAE Armed Forces
Colonel AS Katala, Tanzanian People's Defence Forces
Group Captain Lanre Ibrahim Oluwatoyin, Director, Directorate of Space Technology, Armed Forces of Nigeria
Omran Sharaf, Director of Space Image Processing & Analysis, EIAST
Click here to view the full conference programme with details on speakers and presentations.
For more information about the event please visit the website at http://www.milsatcom-mea.com or contact James Hitchen via tel: +44 (0) 870 9090 711 or email: jhitchen(at)smi-online(dot)co(dot)uk.
MilSatCom ME&A 2014 is proud to be sponsored by Airbus Defence & Space, Harris Caprock, L-3 GCS, SSL, Thales Communications, VASTech and Vocality. To find out about sponsorship opportunities, contact Alia Malick, Director, via amalick(at)smi-online(dot)co(dot)uk or you call +44 (0) 207 827 6168.
About SMi Group
Established since 1993, the SMi Group is a global event-production company that specializes in Business-to-Business Conferences, Workshops, Masterclasses and online Communities. We create and deliver events in the Defence, Security, Energy, Utilities, Finance and Pharmaceutical industries.
For more information visit http://www.smi-online.co.uk