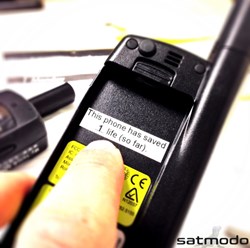 "There's no better way to teach someone something, than by showing them," -Scott Lindsey of Satmodo
San Diego, CA (PRWEB) February 04, 2014
Worldwide satellite phone use is rapidly expanding. This equipment is being used every day by rescue workers, the military, corporations, schools, camps, miners, explorers, off-road racers, seafarers, and the general public to increase the level of security they take with them into potentially life-threatening situations. The problem is that if you haven't been educated on how to properly use this lifeline, then bringing a sat phone with you won't help you at all.
Whether it's supported by the Iridium, Inmarsat, or Globalstar network, Satmodo Satellite Phones has always made a point to teach their customers how to use the equipment they are purchasing or renting, because that knowledge keeps them safe. Satmodo has recently stepped up their efforts to educate the public on the safest and most reliable ways to use satellite phones through the release of a free "how to" series that explains the basics of satellite phone use.
"Look, we want to keep people safe and there's no better way to teach someone something, than by showing them," says Scott Lindsey of Satmodo. "The effectiveness of video, combined with the global reach of the web, lets us show the world how to use their sat phones."
The initial offering of videos covers all of the steps required to get a signal and place a call with Iridium, Globalstar, and Inmarsat sat phones. It even covers setting up an Inmarsat mobile internet unit, and creating a WiFi hotspot. The videos focus on staying short and to the point, which means you can get the answers you need in less than 90 seconds, in most cases. In an effort to make this library of instructional guides as comprehensive as possible, subscribers to the video series can expect to see new installments added every week. Satmodo plans to add videos based on the most commonly experienced problems new users face and on user suggestions.
Lindsey states that, "there's a need for this tool now, more than ever, because we're looking ahead to the next hurricane season, an active wildfire season, and the introduction of Polar Vortexes into our lives. We also expect an exciting year for off-road racers, wilderness guides, and campers. We're going to do everything we can to make it as safe for the people affected by, and involved in, these events with this new educational resource."
Click HERE to browse Satmodo's video series.
Satmodo is a San Diego based company offering satellite phones and internet nationwide, for purchase or rental, starting as low as $24.99 a week. They carry the Iridium 9505A, 9555, & 9575 Extreme handsets, the Inmarsat Isatphone Pro & Explorer BGAN series mobile internet devices and the Globalstar GSP-1700 and GSP-2900 phones. They're open 24/7/365 and they're happy to help.
Satmodo proudly supports ACA Camps and the racers and crews of the Baja 250, Baja 500, Baja 1000, & Baja Rally off-road races.
Call Satmodo today at 1(800)279-2366 or visit them on the web at http://www.satmodo.com.