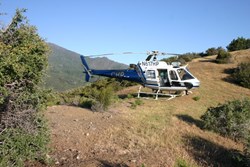 No other hikers had been able to help him until we arrived in the late afternoon with our Iridium 9555 satellite phone. - Mike McCann
San Diego, CA (PRWEB) September 24, 2013
One of the privileges of building Satmodo has been helping keep people safe in unpredictable and dangerous environments. Another one is having the opportunity to meet everyday heroes like Mike McCann.
Mike was hiking in Yosemite National Park, when he came across a situation that could have been fatal if not for his Iridium sat phone rental from Satmodo. But don't take my word for it, let's here from the man himself, Mr. Mike McCann.
Enter Mike:
"On September 5th, while hiking the John Muir Trail, my friend and I came across a hiker suffering from acute high altitude sickness. He was 62 years old and accompanied by his grown son. The hiker was unconscious and in a much weakened state. No other hikers had been able to help him until we arrived in the late afternoon with our Iridium 9555 satellite phone. On the satellite phone, we were able to get a call through for a helicopter rescue.
"We were informed that a helicopter would be deployed, but we were concerned that they might not make it before dark and would be unable to land. Luckily, just before dark, the helicopter arrived and acknowledged that we had been sighted. However, the helicopter was not able to land near our location, due to the trees and high winds.
"The helicopter was able to land about 2 miles away at Waugh Lake. Shortly after that, a paramedic and the pilot arrived at our location. They worked on the hiker, providing him with an IV and oxygen. He needed to get to a hospital immediately.
"We carried the hiker the 2 miles back to the helicopter, in the dark on a rough trail, crossing three creeks. One creek only had a narrow log crossing. It was slow and very tough going. I can't remember how many times we had to stop and rest, but it took us over two hours."
A lot of things had to come together in for this rescue to be a success, so big thanks go out from the Satmodo team to the California Highway Patrol (who sent out the helicopter), to Iridium, and especially to Mike McCann for stepping up to the challenge and for sharing his harrowing tale with us.
About Satmodo:
Satmodo is a San Diego based company offering satellite phones and internet nationwide for purchase or rental starting as low as $24.99 a week. Our equipment is powered by Iridium, Globalstar, and Inmarsat, the largest, most reliable, and only worldwide carriers. We are open 24/7/365. We can provide same day delivery. Satmodo also offers discounts for large orders.
Call Satmodo today at 1(800)279-2366 or visit them on the web at Satmodo.com.