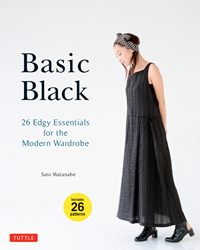 North Clarendon, VT (PRWEB) June 18, 2014
In a follow-up to the recent Japanese Sewing Book hit Stylish Skirts, Tuttle Publishing and popular Japanese designer author Sato Watanabe have collaborated to release their second title together, Basic Black. The book will be published in English and releases worldwide on July 8.
Watanabe has published several titles in Japanese and her designs are considered a favorite in Asia among DIY sewists. English speakers will now have the opportunity to discover Watanabe's work in Basic Black, which enables readers to make truly professional-quality pieces easily and inexpensively at home. Patterns for 26 basic garments, along with detailed, easy-to-follow diagrams and instructions are all included within the book. The styles provided are easily customized to create the sewist's own personal style, and there is truly something for everyone and every occasion. Basic Black is now available for pre-order online or through bookstores after July 8.
Sato Watanabe studied clothing and accessory design at the Bunka Fashion College before beginning a career as a magazine editor, eventually turning her writing skills to cooking and sewing books. Watanabe specializes in simple, elegant homemade couture with room for a touch of individuality.
About Tuttle Publishing
Established in 1948 by Charles Egbert Tuttle Jr. in Rutland, Vermont and Tokyo, Japan, Tuttle Publishing is the premier publisher of English language books on Asian culture. Today, Tuttle maintains an active offering of books on a wide range of topics, including Asian culture, Asian literature, Asian architecture, Eastern spirituality, gardening, cooking, martial arts, crafts, travel, health and wellness, and fine art for a worldwide audience. For more information, visit http://tuttlepublishing.com.