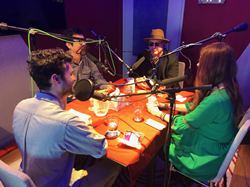 NEW YORK (PRWEB) April 24, 2019
On the latest episode of the Icahn School of Medicine at Mount Sinai's Road to Resilience podcast, comedian Darrell Hammond and filmmaker Michelle Esrick sit down with Jacob Ham, PhD, a clinical psychologist and Director of the Center for Child Trauma and Resilience at the Icahn School of Medicine at Mount Sinai, to discuss childhood trauma, complex post-traumatic stress disorder (PTSD), and healing.
"It's almost as if my brain is doing military preparedness drills," Mr. Hammond says, describing his complex PTSD on Road to Resilience. "There's not a real war going on, but my brain is going to stay ready just in case somebody comes into the room with a hammer." His experience with trauma, addiction, and recovery is explored in a new documentary film, Cracked Up, directed and produced by Ms. Esrick.
A regular cast member for 14 seasons on Saturday Night Live, Mr. Hammond entertained millions with his spot-on impersonations of Bill Clinton, Donald Trump, Sean Connery, and others. But behind the scenes he endured debilitating flashbacks, substance abuse, and self-harm. Misdiagnosed and medicated for decades, it wasn't until Mr. Hammond was in his 50s that he finally received the correct diagnosis: childhood trauma.
On Road to Resilience, Mr. Hammond, Ms. Esrick, and Dr. Ham discuss the long-term health effects of childhood trauma, how to deal with triggers in daily life, and the ways loved ones can support survivors in their recovery.
"We all either have our own trauma, or we know somebody with trauma. We're just all connected to it," Ms. Esrick says. "If you want to help somebody, listen with love and curiosity, and be willing to believe what's being said, even if it's hard or painful."
Dr. Ham said on Road to Resilience, "[Psychologists] still focus on big 'T' traumas—like combat and sexual violence—but it's the day-to-day neglect that is most impactful on the person's ability to have loving relationships and connection with other human beings."
Cracked Up explores the lifelong effects of childhood trauma, addiction and recovery through Mr. Hammond's inspiring story. It features extensive interviews with Mr. Hammond, as well as leading trauma experts such as Bessel van der Kolk, MD, psychiatrist and author of The New York Times bestseller The Body Keeps the Score: Brain, Mind, and Body in the Healing of Trauma.
Road to Resilience brings you stories and insights to help you thrive in a challenging world. From fighting burnout and trauma to building resilient families and communities, the podcast explores what's possible when science meets the human spirit. To listen, visit Apple Podcasts, Spotify, Stitcher, Google Play, or the Road to Resilience website.
About the Mount Sinai Health System
The Mount Sinai Health System is New York City's largest integrated delivery system, encompassing eight hospitals, a leading medical school, and a vast network of ambulatory practices throughout the greater New York region. Mount Sinai's vision is to produce the safest care, the highest quality, the highest satisfaction, the best access and the best value of any health system in the nation. The Health System includes approximately 7,480 primary and specialty care physicians; 11 joint-venture ambulatory surgery centers; more than 410 ambulatory practices throughout the five boroughs of New York City, Westchester, Long Island, and Florida; and 31 affiliated community health centers. The Icahn School of Medicine is one of three medical schools that have earned distinction by multiple indicators: ranked in the top 20 by U.S. News & World Report's "Best Medical Schools", aligned with a U.S. News & World Report's "Honor Roll" Hospital, No. 12 in the nation for National Institutes of Health funding, and among the top 10 most innovative research institutions as ranked by the journal Nature in its Nature Innovation Index. This reflects a special level of excellence in education, clinical practice, and research. The Mount Sinai Hospital is ranked No. 18 on U.S. News & World Report's "Honor Roll" of top U.S. hospitals; it is one of the nation's top 20 hospitals in Cardiology/Heart Surgery, Gastroenterology/GI Surgery, Geriatrics, Nephrology, and Neurology/Neurosurgery, and in the top 50 in six other specialties in the 2018-2019 "Best Hospitals" issue. Mount Sinai's Kravis Children's Hospital also is ranked nationally in five out of ten pediatric specialties by U.S. News & World Report. The New York Eye and Ear Infirmary of Mount Sinai is ranked 11th nationally for Ophthalmology and 44th for Ear, Nose, and Throat. Mount Sinai Beth Israel, Mount Sinai St. Luke's, Mount Sinai West, and South Nassau Communities Hospital are ranked regionally.
For more information, visit http://www.mountsinai.org/, or find Mount Sinai on Facebook, Twitter and YouTube.