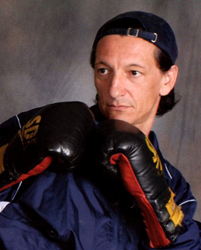 The Princeton Academy of Martial Arts is New Jersey's complete training center for the study of martial arts.
Princeton, New Jersey (PRWEB) March 25, 2015
In a rare appearance, former French Cup champion Nicolas Saignac will teach a Savate workshop at the Princeton Academy of Martial Arts (PAMA) in Princeton Junction, New Jersey on Saturday, April 11. Nicolas Saignac began his study of Savate in 1983. After a few years of practice and under the guidance of one of France's best coaches, Franco DiGuglielmo, Nicolas reached the final of the French Cup in 1987 and won the championship title the following year.
Savate is the traditional French martial art also known as French Kickboxing. Savate literally means 'old shoe' and is the only kickboxing style that uses shoes in the ring. Born in the streets of France, Savate evolved into a very sophisticated system of self-defense, and was once the most popular fighting art in Europe. While the fast-paced style reflects its street fighting origins, Savate is also graceful and eclectic. Shortly after World Wars I and II, Savate fell into decline, but now it has re-emerged as one of the most popular and complete fighting systems in the world with its own unique history, masters and champions past and present.
After six years of competing in Savate, as well as in Boxing, Nicolas retired from the ring to focus on teaching, coaching, judging and refereeing. Currently a professor with teaching credentials from the Ministry of Sports in Savate and Boxing, Nicolas holds a Silver Glove 2nd degree, the highest Savate rank in the US.
Since moving to Los Angeles, CA in 1992, he has become one of the leading promoters of the sport: teaching, leading, training or coaching successful US teams to several World Savate Championships. He has had the honor to teach Savate Kickboxing with a strong emphasis on ring tactics at the internationally famous Inosanto Academy for several years. He has created Savate instructional videos, several articles in Martial arts magazines, and has been featured in multiple articles, documentaries and videos.
The fee for the April 11 Savate workshop is $95; after April 4th, the fee is $105. All major credit cards are accepted. To register by phone call 609-452-2208 or visit http://www.pamausa.com/ for more information or to register online. Click here to register online. Recommended training equipment: focus mitts, bag gloves, boxing gloves, mouth piece, shin guards, groin protector.
The Princeton Academy of Martial Arts is New Jersey's complete training center for the study of martial arts. Internationally known, Princeton Academy of Martial Arts offers a curriculum that gives students a wide range of martial arts systems to choose from, and provides long-range potential for developing both the physical and mental attributes associated with martial arts training. Director and head instructor Michael Lee has over 20 years of experience and is certified in a variety of martial arts. Princeton Academy has established itself as one of the finest training academies in the United States in the arts of Jun Fan Gung Fu, Jeet Kune Do (JKD) and Muay Thai. PAMA also specializes in Filipino Kali/Eskrima, Indonesian Pencak Silat, Mixed Martial Arts (MMA) and Savate, and they also offer premiere Women's and Children's Programs. PAMA serves students internationally, nationally, as well as locally from areas such as Princeton, West Windsor, Lawrenceville, Plainsboro, Pennington, Hopewell, Hamilton, South Brunswick, Ewing, and Trenton.