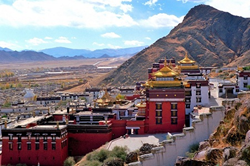 Tibet travel tips from local agency Tibet Ctrip Travel Service!
Lhasa, Tibet (PRWEB) April 02, 2015
On a tour of Tibet, no one wants trouble when accessing or using his or her hard earned money. Tibet is a unique place and with it comes a way of doing business that's different from other popular travel destinations. Lhasa-based travel agency Tibet Ctrip Travel Service-TCTS (http://www.tibetctrip.com) wants to help ensure everyone arrives with good preparation and is here to fill travelers in on what to expect before the tour season comes soon in 2015.

With the exception of a few high-end hotels, expect to make all purchases in cash. In Tibet, credit cards are rarely an option. Should one find himself in an emergency or experience trouble accessing his bank account, major banks such as Bank of China can process cash advances from some cards.
There are reliable ATMs that accept foreign cards throughout Lhasa. Be advised that some banks may not take all cards. If one particular ATM doesn't work, don't panic; just try another! Before leaving home make sure that all travel group members alert their banks of upcoming foreign ATM transactions. Also, its best to withdraw all cash needed before the Tibet tour leaves Lhasa.
The Chinese Yuan (RMB) is the local currency. If coming from Mainland China, it's wise to spend coins before coming to Tibet as some shops and restaurants may not accept them. There are a variety of currency exchange services available although the best rates can be found at banks.
Running into money hassles money while traveling in a foreign place is nothing short of a nightmare. The most important thing to keep in mind is that cash will be needed for nearly all purchases and that travelers will need to alert their bank to foreign transactions. This will head off most issues. With the travel season right around the corner, now is the time to book a tour!
Please do not hesitate to learn more about Tibet travel agency TCTS!